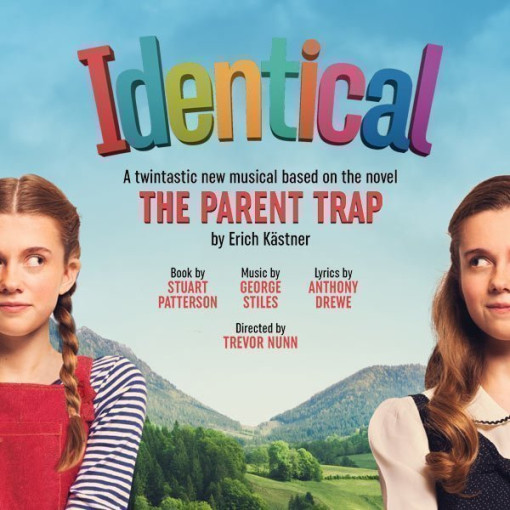 Identical The Musical description
Identical Musical – 3 times a movie, now on stage!
2021 is a very special year, and there's a magical new musical on the cards to delight youngsters and parents alike. This is a brand new musical stage version of the classic movie The Parent Trap, a story that has been brilliantly transformed into a show to delight audiences, jammed with gorgeous tunes and packed with fun.
This fab musical is based on the brilliant novel by Erich Kastner, The Parent Trap. The plot is so strong it has been made into a movie three times – in 1961, 1989 and 1998. If you love a happy ending, this one's for you. If you want to experience a heart-warming, funny story full of laughs, here you are. It's great for all the family, and you'll leave the venue with a huge smile plastered across your face. Feel good? Oh, yes!
What's the story?
The identical twins Hallie and Annie were separated at birth. Neither has any idea they have a twin sister, and they manage to reach the age of ten without realising they're not alone. When their parents send them to a Summer Camp and the twin girls discover each other for the first time, it turns out one parent took a twin each, after which they never met again.
Hallie and Annie decide they want to bring their parents back together, and they hatch a plot to make it happen. When they swap places and live each other's lives, magic happens. Will the girls mend the breach between their folks and end up a happy family of four once again? Come along and see.
What about the creative team?
The book is by Stuart Patterson, the music is by George Stiles, and the lyrics are by Anthony Drewe – a glittering team if there ever was one. It is directed by Sir Trevor Nunn, the Olivier and Tony award-winning genius who helped to make Les Miserables, Starlight Express, Cats and Sunset Boulevard so special. Stiles and Drewe are no strangers to success, having worked on the musical scores for the Olivier winning Honk! and the Cameron Mackintosh and Disney version of Mary Poppins. Stuart Paterson also has an impressive background, with a string of fab stage adaptations including The Jungle Book and Kenzuke's Kingdom.
About the three movie versions of the story
Very few plots are good enough to merit three movies, never mind one! The 1961 The Parent Trap movie was directed by David Swift. It starred Hayley Mills as both twins, with very clever special effects bearing in mind the times.
Parent Trap 3, made in 1989, was directed by Mollie Miller and starred Hayley Mills, Barry Bostwick, Ray Baker, and Patricia Richardson.
The 1998 movie came with direction by Nancy Meyers and starred Lindsay Lohan, Dennis Quaid, Natasha Richardson, and Elaine Hendrix.
This time around it has been made into a musical, and the West End is holding its breath in anticipation. If you'd love to see a classic family musical, this is a fantastic new classic in the making.