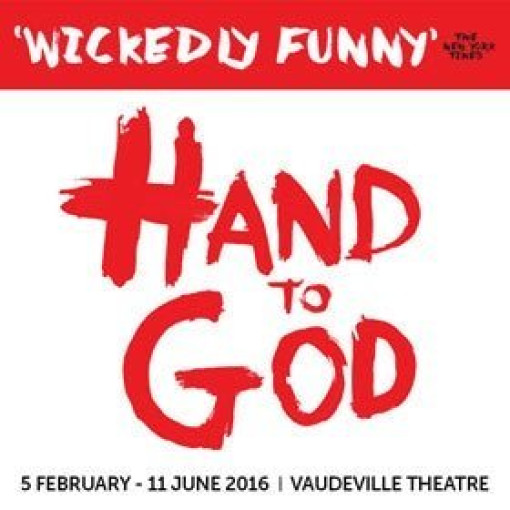 Hand to God
4.1/5
based on 15 reviews
(read reviews)
Booking until: Saturday, 30 April 2016
Running time: 2 hours
Hand to God description
Steven Boyer played the parts of Jason and Tyrone in the Broadway production, winning thousands of hearts and minds with his extraordinarily funny performance. The US director Moritz von Stuelpnagel is also in charge of the West End production and the cast is to be announced – watch this space. London's theatreland tickets go on sale in in late October 2015 and this one's guaranteed to be hugely popular, so make a note to grab your tickets early.
What can you expect? The lead role is a young man called Jason, a student who's deeply involved with his local Christian Puppet Ministry. So far he has managed to avoid life's temptations, a clean living chap. He obeys the bible hook, line and sinker, committed to his religious beliefs in every way.
All is well until one of the sock puppets he operates, a character called Tyrone, begins his wicked work. Provocatively encouraging everyone he comes across to do bad, bad things, the foul-mouthed puppet starts to make Jason think twice about everything he feels he knows: his values, opinions, expectations and even his religion.
Is the puppet possessed? Or is it Jason's alter-ego? Decide for yourself – it's just as funny either way. You might see it as an exploration of faith and how fragile human convictions can be. You might think it's simply a stonkingly good, satisfyingly intelligent comedy. Whatever you decide, you'll have a barrel of laughs on the journey.
The New York cast included Geneva Carr, Marc Kudisch, Michael Oberholtzer and Sarah Stiles, all hard acts to follow. It looks like the UK cast announcement will be an exciting event.
This is a wonderfully irreverent puppet comedy. The original puppets – contemporary, quirky and engaging - were designed and built by Marte Johanne Ekhougen. The Broadway production was nominated for a Tony award and the London show kicks off on 5th February 2016.
"Was that show good... so many laughs!"
"My stomach hurts from laughing"
"So good, so warped!"
Hand to God tickets
If you'd like to buy Hand to God cheap tickets we sell every type of ticket, from bargain to top of the range, all with excellent availability.
Playing at Vaudeville Theatre
404 Strand, London, WC2R 0NH (venue info)
Directions
Hand to God photos
Age restrictions
May not be suitable for those under the age of 15. Strong language and adult subject matter
Performance Times
Hand to God news
Broadway hit Hand to God comes to the West End next year
21

Sep
Broadway hit Hand to God comes to the West End next year