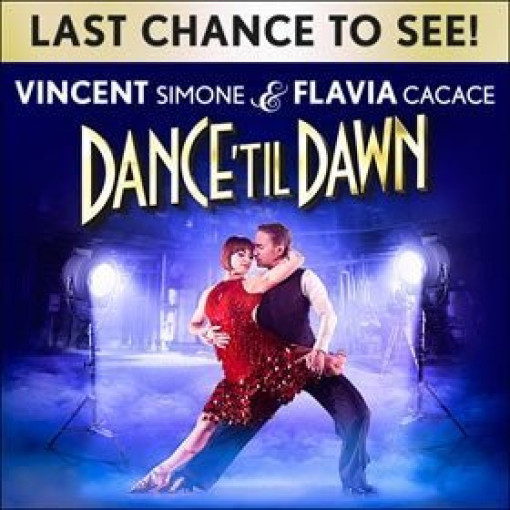 Dance 'til Dawn
4.8/5
based on 79 reviews
(read reviews)
Booking until: Saturday, 3 January 2015
Running time: 2 hours
Dance 'til Dawn description
Fancy dancing 'til dawn in the company of two of Britain's best-loved ballroom dancers? The show is directed by Karen Bruce, who also directed their production of Midnight Tango, and it's set to create a huge splash with spectacular dance moves, stunning costumes and a stage set to die for, fresh from a whirlwind UK tour.
What's it all about? The show is a potent mixture of musical theatre, dance, romance and comedy, set in glamorous 1940s Hollywood. Dance 'Til Dawn is produced by Adam Spiegel Productions and the story goes like this: in the middle of a movie shoot, the leading man Bobby Burns is murdered. As a result romance blossoms between the gorgeous movie starlet Sadie Strauss, played by Flavia Cacace, and her equally gorgeous lover Tony DeLuca, played by Vincent Simone. But there's a sinister plot underway to frame Tony. All the couple can do is use their remarkably skilful and beautiful-to-observe ballroom dance skills to avoid trouble and stay together... whatever happens.
The show is inspired by a book by Ed Curtis. The set design is by the talented Morgan Large, with amazing lighting by James Whiteside, super sound by Richard Brooker and costumes by Vicky Gill. The choreography is overseen by Karen Bruce, in collaboration with the dancers themselves.
Vincent Simone and Flavia Cacace are long-time dance partners, having worked together for two decades. And the former Dance World champions have wowed TV audiences in several series of the BBC's popular Strictly Come Dancing TV show. They also appeared on stage together in Midnight Tango, their first dance musical and a huge hit in 2010.
After its run at the Aldwych the show takes to the road for a UK-wide tour. If you want to see the couple début in London's glittering theatreland, now's your chance.
Dance 'til Dawn tickets – An unforgettable story, beautifully told
If you'd like to buy Dance 'til Dawn cheap tickets, we offer the full range of seating types, from low cost to premium, all with excellent availability.
Playing at Aldwych Theatre
49 Aldwych, London, WC2B 4DF (venue info)
Directions
Performance Times