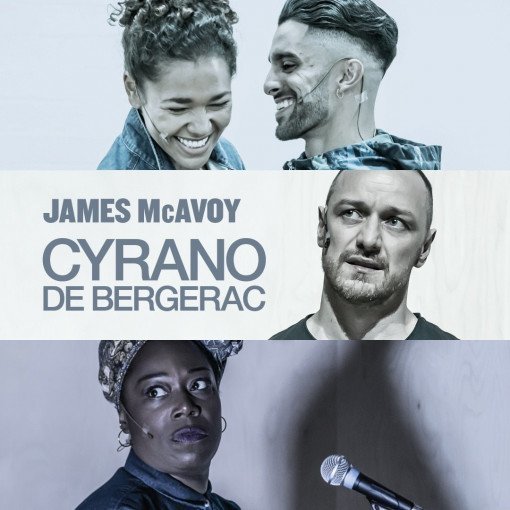 Cyrano de Bergerac
4.8/5
based on 25 reviews
(read reviews)
Opens: Thursday, 3 February 2022

-


Booking until: Saturday, 12 March 2022
Running time: 2 hours 50 minutes
Cyrano de Bergerac photos
Cyrano de Bergerac description
Cyrano De Bergerac – The all-time French classic brought back to life
You know the saying, "A match made in heaven"? This is one of those, a rare opportunity to see something special created by someone very special indeed, with a super-special star and a brand new West End theatre initiative that might just change the face of the British stage forever... in a good way!
So what's going on? The Jamie Lloyd Company, a hugely popular partnership between the Ambassador Theatre Group and Lloyd himself, are delighted to reveal their latest initiative, this time in partnership with British Airways and the brilliant Golden Globe and Olivier Award nominated James McAvoy. The play is Edmond Rostand's Cyrano de Bergerac, skilfully adapted by Martin Crimp. The production marks the first in a fresh new season at the Playhouse theatre, directed by Lloyd. And there are 15,000 free tickets on the cards, specially for first-time theatregoers, plus 15,000 tickets for £15 aimed at London's key workers, under 30s, and people on benefits.
Why the free and low-cost tickets? Jamie Lloyd and James McAvoy share a passion for bringing great theatre to the people. Thanks to a strong relationship with British Airways, they've created a plan they hope will become the norm in the capital, opening up the West End to people who might otherwise never see live acting on stage.
The plot? An officer of the guard and a hopeless romantic, big-nosed Cyrano de Bergerac is a poetic soul who has fallen truly, madly and deeply in love with his gorgeous cousin Roxane. But he's worried she'll laugh at his big nose and reject his advances. Instead of confessing his feelings he writes letters to Roxane on behalf his cadet, Christian, who also adores the very ground she walks on. Roxane falls for the letters, and marries Christian. And poor Cyrano keeps his secret even when tragedy strikes...
Jamie Lloyd and James McAvoy, of course, have worked together many times before, and that means we can reliably predict plenty of stage magic. You may have enjoyed Lloyd's work on The Ruling Class at Trafalgar Studios, Macbeth at the same venue, Three Days of Rain at the Apollo plus plenty more critically acclaimed plays.
McAvoy plays Cyrano de Bergerac, the latest in a long line of impressive theatrical credits including Macbeth, Breathing Corpses, Privates on Parade and many more. His TV roles have included Shameless, Early Door, State of Play and more. And on the silver screen he has made a top job of cool roles in X-Men movies, Glass, Sherlock Gnomes, Submergence, Atomic Blonde and Split, to name just a few.
The show is designed by Soutra Gilmour with lighting by Jon Clark, sound and composition by Ben and Max Ringham, and fight direction by Kate Waters. Martin Crimp, who adapted the show, also has an impressive portfolio including In the Republic of Happiness, Play House, The City, and Fewer Emergencies. The signs are looking good. Very good. So grab yourself some tickets as soon as they come out!
Starring
James McAvoy
Playing at Harold Pinter Theatre
6 Panton Street, London, SW1Y 4DN GB (venue info)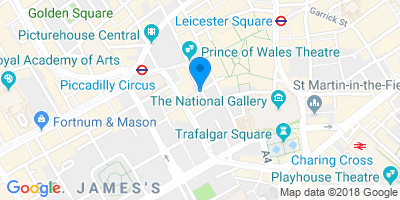 Directions
Age restrictions
12+
Contains swearing and full nudity.
Important information
Please be aware there is no re-admission into the auditorium once the performance has started. The show is 2 hours 50 mins (Part One: 1 hour and 29 mins; Part Two 55 mins).
Performance Times
Cyrano de Bergerac news
Full cast announced for CYRANO DE BERGERAC at the Playhouse Theatre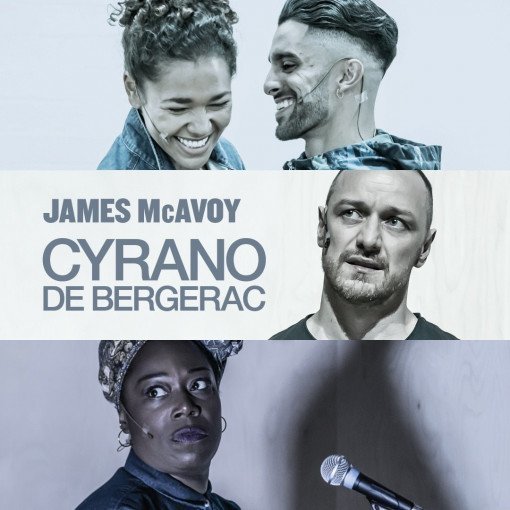 15

Oct
Full cast announced for CYRANO DE BERGERAC at the Playhouse Theatre
The Jamie Lloyd Company announces Cyrano de Bergerac starring James McAvoy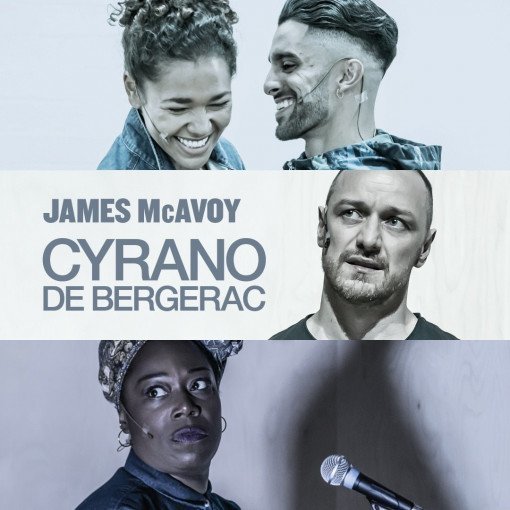 29

Jul
The Jamie Lloyd Company announces Cyrano de Bergerac starring James McAvoy