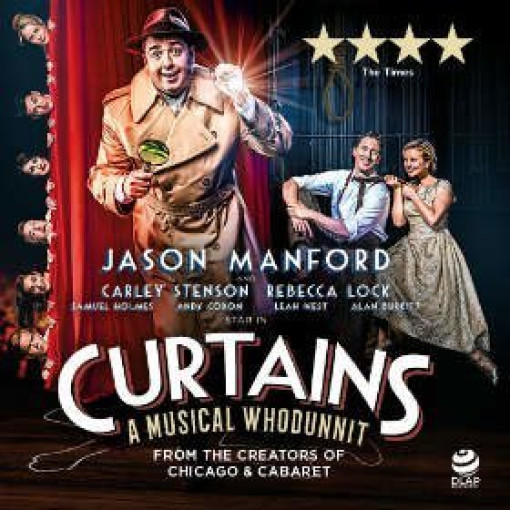 Curtains
4.6/5
based on 17 reviews
(read reviews)
Booking until: Saturday, 11 January 2020
Curtains photos
Curtains description
Curtains – Fun from start to finish
It's hilarious, exciting, fun, fast and furious. It scored a big hit on Broadway. It's called Curtains, and now it's due in theatreland for its UK premiere, on at Wyndhams theatre and set to thrill large audiences through the festive season and into the New Year.
The show stars our very own comedy hero Jason Manford, who is much more than a stand-up comedy genius. He also happens to be a talented actor and a superb singer. What a treat for the darkest, chilliest time of year!
What's the plot? It's really tricky putting on a new musical. In fact, it's literally murder. When Jessica Cranshaw, the glittering star of a new Broadway-quality show called Robbin Hood, is murdered on stage during the opening night, everyone falls under suspicion. When detective Frank Cioffi turns up to solve the crime he ends up doing a lot more than finding the killer.
If you're thinking about treating yourselves to a great family show with a big heart, this is it. The musical is cheerful and colourful, noisy and fun, a proper festive special designed to add laughter to your Xmas and New Year. Don't miss this clever whodunnit that's bound to delight with its countless catchy show tunes, unforgettable characters and numerous plot twists.
Jason Manford has delighted audiences with brilliant TV series, top class stand-up comedy and an awesomely good singing voice. Carley Stenson has thrilled us with roles in Les Miserables, Legally Blonde, Shrek, Spamalot and of course the telly soap phenomenon Hollyoaks. This fab musical comes fresh from the talented creators of Cabaret and Chicago, Kander and Ebb, and it's a Tony award-winning show. When it premiered on Broadway in 2007 the show was nominated for eight Tony awards, and David Hyde Pierce won the Tony for Best Actor in a Musical for his portrayal of the policeman Frank Cioffi.
Rebecca Lock plays Carmen Bernstein, Samuel Holmes plays Christopher Belling and Leah Barbara West is Niki Harris. Alan Burkitt plays Bobby Pepper and Andy Coxon is Aaron Fox. The large, colourful cast also stars Emma Caffrey as Bambi Bernet, Adam Rhys-Charles as Daryl Grady, Martin Callaghan as Oscar Shapiro, Minal Patel as Johnny Harmon and Mark Sangster as Sidney Bernstein. Plus J.R. Ballantyne, Kathryn Barnes, Pamela Blair, Charlie Johnson, Robin Kent, Thomas-Lee Kid, Ben Mundy, Gleanne Purcell Brown, Samuel John-Humphreys and Nia Jermin.
The book comes from Rupert Holmes. It's directed by Paul Foster, the choreographer is Alistair David, and Sarah Travis is the Musical Supervisor, also responsible for the Arrangements. Set design comes from David Woodhead and the Casting Director is Jim Arnold CDG.
After its short but sweet West End run – not to be missed – the musical takes off on a UK tour covering London's New Wimbledon theatre before heading north to Sunderland, Liverpool, Llandudno, Norwich, Northampton, Blackpool, Glasgow, Leicester, Wolverhampton, then finally back down to Southampton's gorgeous Mayflower theatre.
If you only see one musical theatre show this festive season, make it Curtains and you'll be laughing all the way home. It's perfect for the whole family, ideal for anyone aged 12 or more.
Starring
Carley Stenson, Jason Manford
Playing at Wyndham's Theatre
32-36 Charing Cross Road, London, WC2H 0DA GB (venue info)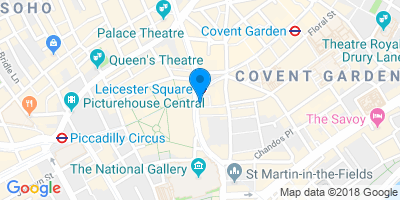 Directions
Performance Times
Similar shows
Blithe Spirit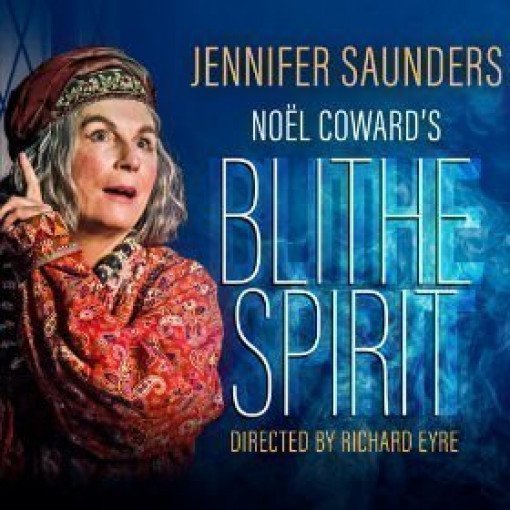 Opens 16 Sep 2021
Opens 16 September 2021
Blithe Spirit
4.7/5
based on 85 reviews
Playing at:
Harold Pinter Theatre
Opens: Thursday, 16 September 2021
Booking until:
Saturday, 6 November 2021
From

£24.00