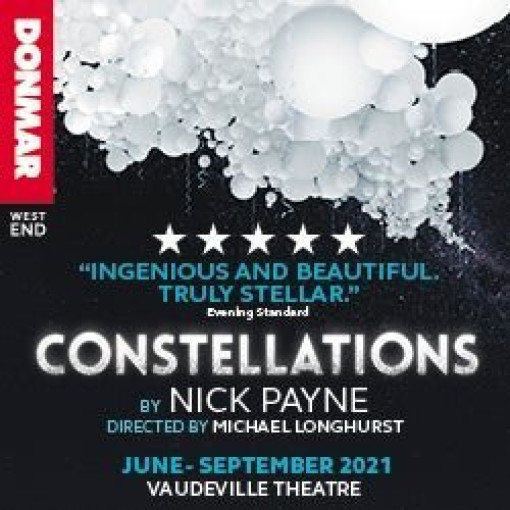 Constellations
4.3/5
based on 6 reviews
(read reviews)
Booking until: Sunday, 12 September 2021
Running time: 1 hour 10 minutes
Constellations photos
Constellations description
Constellations – When small things have a huge impact
Back in 2012 the first production of Nick Payne's beautiful love story, Constellations, thrilled audiences and rocked our world. Now it's back to once more to explore how even a tiny change in a life can dramatically alter its entire course. This is a genuinely spellbinding play about love, science, quantum theory, and the infinite possibilities we face for heartbreak and hope, and it's simply stunning.
Constellations is a gorgeous and highly unusual science-inspired love story that's as unique as the collaboration that created it. The Donmar Warehouse, Wessex Grove and Eleanor Lloyd Productions, Eilene Davidson, Gavin Kalin Productions, Grand Cru Consulting Ltd, Rupert Gavin and Mallory Factor are all working together on this production, in association with Nica Burns for Nimax. We're delighted to welcome you to Nick Payne's quirky, unforgettable romance.
What's the story behind Constellations?
The world of the very, very small is an extraordinary place where anything can happen. Some say we live in a multiverse, existing in just one universe amongst an infinite number of parallel universes where everything that can possibly happen, happens.
If there is a set of parallel existences that contain infinitely different futures, what would happen to one couple who met at a party? The possibilities are endless. And every possible happy ending and heartbreak that could befall them, will befall them. This is one heck of a love story!
When the physicist Marianne meets the beekeeper Roland, they hit it off and go for a drink together. Or maybe they don't. Do they go their separate ways or go home together? Perhaps they do both, or neither – this is, after all, quantum physics. Is Marianne in love with someone else? Maybe Roland is. She might break his poor heart, or he might break hers. Who knows?
Does their love story ever take root and grow? Or will it be cut short and become a minor tragedy in an uncaring, vast universe of infinite size and complexity? In this play the smallest action has dramatic effects. This truly spell-binding tale of love, science, quantum theory, and infinite possibility is full of hope and also full of heartbreak.
About Constellations
This is a Royal Court Theatre Production. It's beautifully directed by Michael Longhurst and features a total of four new two-person casts, each playing for a limited time. It's the winner of the Evening Standard Award for Best Play and has also won a WhatsOnStage Award for Best Design. It stars Sheila Atim and Ivanno Jeremiah from 18th June to 1st August, Peter Capaldi and Zoë Wanamaker from 23rd June to 24th July, Omari Douglas and Russell Tovey from 30th July to 11th September, and Anna Maxwell Martin and Chris O'Dowd between 6th August and 12th September. Walk this way for proper on-stage magic that'll have you mulling the plot over in your mind for months to come. It really is very hard to forget.
Buy tickets for Constellations
Buy tickets for Constellations from us and enjoy a smooth buying experience you'll love. We simply email your tickets to you, for you to present at the door on the day of the performance. We hope you enjoy this dazzling showstopper of an event.
Playing at Vaudeville Theatre
404 Strand, London, WC2R 0NH GB (venue info)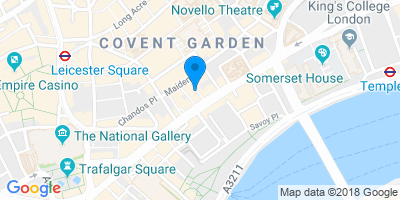 Directions
Age restrictions
Recommended for 10+.
Performance Times
Constellations news
Constellations to wow the West End for a second time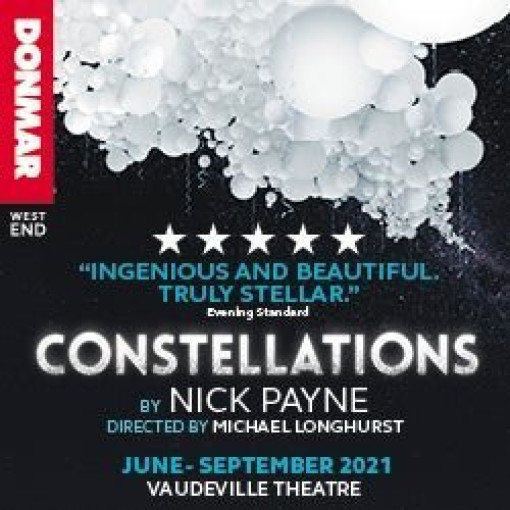 30

Jun
Constellations to wow the West End for a second time