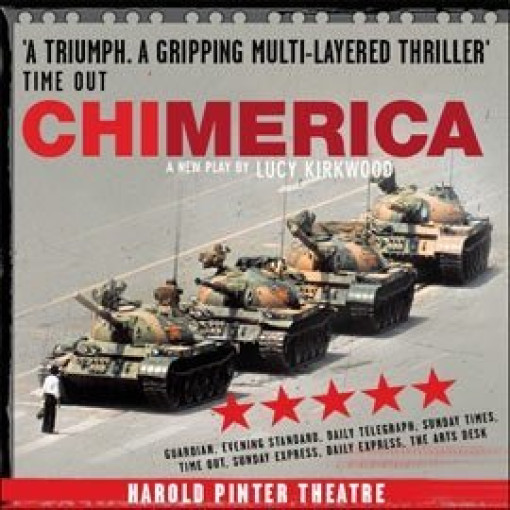 Chimerica
4.7/5
based on 16 reviews
(read reviews)
Booking until: Wednesday, 16 October 2013
Running time: 3 hours 5 minutes
Chimerica description
Chimerica tickets – A classy mystery set against a fascinating backdrop
The scene: China's famous Tiananmen Square protests, which so shocked the world in the late 1980s. As the tanks crush Beijing and armed soldiers try to break down his hotel door, a young American photojournalist - Joe Schofield – is busy capturing history as it unfolds. But when he finds a mysterious cryptic message in a Beijing newspaper more than two decades later, his life is turned upside down. Will he discover the identity of the unknown hero he captured on film all those years ago? And will he find out what happened to him, if indeed he really is still alive?
As The Guardian newspaper said about Chimerica, "it is… filmic in its speed and multiplicity of short scenes, but it is also overwhelmingly theatrical in its ability to relate character to issues and to come up with astonishing images. When a body tumbles out of a refrigerator in the Beijing apartment of Benedict Wong's Zhang Lin we are in the realm of the ultra-theatrical, a million miles away from the bland realism of television. Go see."
Go see indeed. That's what we call a recommendation. And the praise for this astonishing play goes on and on. The Daily Telegraph calls it "Epic, exhilarating, exceptional". The Evening Standard hails it as, "Lucy Kirkwood's magnificent drama. A towering achievement". Time Out says it's the "Play of the year. Originality, intelligence, richness and humour". To Metro it's "Blistering, explosive, essential theatre." And What's On Stage calls it, "Engaging, elliptical, twisty and beautifully written play". So what's it all about?
Chimerica is a provocative new piece by Lucy Kirkwood and it takes a long, hard, extremely entertaining look at the emergence of China's 'sleeping dragon'. This is the ultimate in compelling drama and gives audiences a fresh take on the infamous events that took place in a country few westerners know but most are intrigued by.
The play originally opened at the Almeida theatre but soon won a West End transfer through sheer merit, thanks to phenomenally positive audience reactions. Now it's at the Harold Pinter theatre for a strictly limited eight week run… not to be missed!
If you adore top quality storytelling, this one's for you. If you find the inter-twining fortunes of two countries that couldn't be more different – the US and China – fascinating, it's the perfect night out. And if you like your drama at breakneck pace, as gripping as it gets, you won't go far wrong with Director Lyndsey Turner's help.
If you'd like to secure Chimerica cheap tickets, we offer the full range of seat types, from affordable to premium price, all with excellent availability.
Playing at Harold Pinter Theatre
6 Panton Street, London, SW1Y 4DN GB (venue info)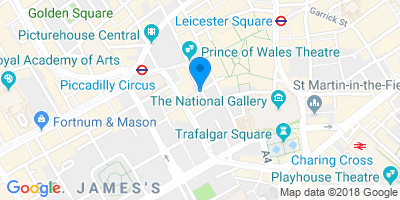 Directions
Performance Times
Chimerica news
Chimerica transfers to the Harold Pinter Theatre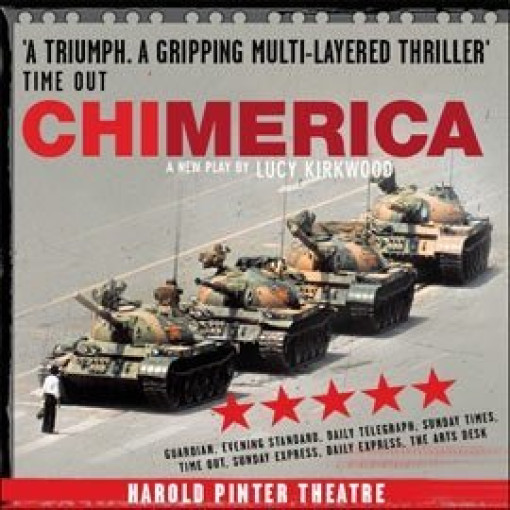 05

Aug
Chimerica transfers to the Harold Pinter Theatre