We Will Rock You to close after an astonishing 12 years
by Oliver Mitford on Wednesday 19 March 2014, 2:33 pm in West End News & Gossip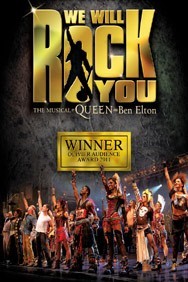 The smash-hit Queen and Ben Elton musical We Will Rock You has announced that it will close on 31 May 2014 after a victorious 12 year reign at the Dominion Theatre. The hugely popular rock inspired show has been seen by over 6.5 million people at its London home since opening back in May 2002. The production is the Dominion theatres longest running show, trumping the last by a whopping nine years. It takes its rightful place in West End theatre history by being the 10th longest running musical of all time.
Since the shows inception in 2002 it has subsequently been staged in 28 countries and been seen by more than 16 million people worldwide! When the show closes on 31 May 2014, it will have been performed at the Dominion an astonishing 4600 times.
We Will Rock You notched up an array of awards over the past 12 years including the WhatsOnStage Award for Best New Musical in 2003 and the much sought after Olivier Audience Award in 2011, the only category voted for entirely by the public.
The surviving members of Queen - Brian May and Roger Taylor, and their fellow collaborator Ben Elton said in a joint statement, 'We want to thank every one of the many hundreds of incredible musical theatre artists, musicians and crew with whom we've had the privilege of working at the Dominion since 2002. And of course the incredible audiences who have rewarded them with over four and a half thousand standing ovations!'
Rumours are circulating about which show will take over at the very large Dominion Theatre, the front runners so far seem to be Broadway export Mowtown and new musical King Kong that recently opened in Australia to much acclaim. Look out for more news soon.