Whose Line is it Anyway? comes to the West End
by Oliver Mitford on Monday 25 May 2015, 1:24 pm in Upcoming and New Shows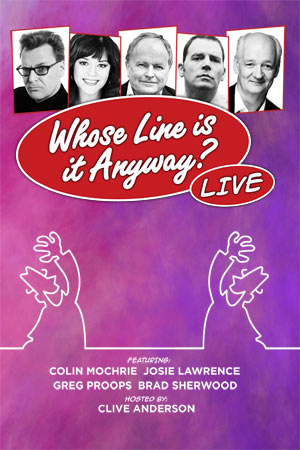 The cult 1990's hit improvisational comedy show Whose Line is it Anyway? will make a welcome return this summer, but this time not to television screens, instead audiences will be treated to a live show at the Adelphi Theatre in London.
Running for just two weeks from 20 June to 5 July 2015, the show will feature original host and comedian Clive Anderson, as well as a whole host of other famous faces from the comedy circuit including, Brad Sherwood, Greg Proops, Colin Mochrie and Josie Lawrence.
Clive Anderson said in a statement 'It's great to be back in charge of the iconic Whose Line Is It Anyway? - joining up with some of the show's most impressive improvisers to play many of its best loved games, together with some exciting new features, devised by its original creators... Expect all the fun of the television program - only this time live on stage'.
Whose Line Is It Anyway? started life out as a radio programme in the mid 1980's, but then made the successful transition television, debuting on Channel 4 in 1988. The format of the show consists of a panel of four comedians who improvise scenes and characters from topics suggested by the audience. The host awards points and at the end of the show a winner is announced. The show was last seen on screen in back in 2009.