Unexpected Joy - Katy Lipson and Jim Kierstead's new partnership
by Best of Theatre Staff on Wednesday 21 March 2018, 1:35 pm in Upcoming and New Shows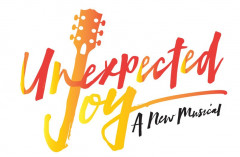 Award-winning producer, Katy Lipson of Aria Entertainment (The Addams Family, Hair, The Toxic Avenger, Yank, Little Women, Pippin, andrecipient of a Stage One Bursary & Start-Up Award,OFFIES 2017 Producer Of The Year andThe Stage 100's Most Influential Figures 2018),announces a new partnership withNew York City based Tony and Olivier Award winning theatre and film producer, Jim Kierstead of Kierstead Productions (Kinky Boots, Dreamgirls and Waitress), joining forces to develop and present new and groundbreaking productions on both sides of the Atlantic in Off-Broadway/Off-West End-sized venues.
Their first co-production will be the new Bill Russell (book and lyrics) and Janet Hood (Music) musical, Unexpected Joy, that will receive its Off-Broadway premiere at The York Theatre Company from 24 April – 2 May, before a run at Southwark Playhouse from 6 – 29 September 2018, with press night on Thursday 13 September. Both productions will be directed by Amy Anders Corcoran but will be individual and unique in casting and design elements.
The two producers met when Jim Kierstead joined Katy Lipson on the transfer of the musical Yank! from the Hope Mill Theatre in Manchester, to London's Charing Cross Theatre, in the summer of 2017. Kierstead had been one of the original producers of the show Off-Broadway in 2010 at The York Theatre Company. The two realised that they shared the same passion for developing new musicals from the ground up and reconceiving old favourites in original and inventive ways.
Katy Lipson had this to share about the new partnership, "This is a very exciting time in Aria's journey; Not only are we delighted to be co-presenting this incredible new musical which celebrates female empowerment with 4 great roles for women both in New York Off-Broadway and London's Southwark Playhouse, but also to be collaborating with American producer Jim Kierstead on a new relationship which will see us working on similar co-productions of new chamber musicals both in the UK and across the pond."
Jim Kierstead says of the partnership, "From the moment I met Katy, I knew we would get along wonderfully. She has boundless energy and endless ideas. She also is a tremendous multitasker and is incredibly organized, so we get along amazingly well." He went on to add, "We can discuss ten different ideas in the span of ten minutes without getting confused. It's a rare trait. I'm looking forward to the first of many collaborations together using this new model, as Unexpected Joy is a show that's near and dear to my heart as I've spent the past 6 years developing it with the authors. Stay tuned for our next collaboration!"
Unexpected Joy is the story of three generations of female singers, long-held family tensions and a week together where change is in the air – Joy, a baby boomer pop star, is visited by her daughter, Rachel and granddaughter Tamara. Rachel is married to a prominent televangelist, so Joy is reluctant to divulge that she's planning to marry Lou, another singer who happens to be a woman. A week with all four together is bound to lead to tension, laughter, discoveries and happiness that really is unexpected. Let the sparks and music fly!
In a time when the awareness of diversity and acceptance in society is at an all-time high, it's the perfect opportunity to examine differences within our own families. It's easy sometimes to disregard strangers who believe and live differently than the way we do, but what happens when those differences occur within our own family units? Unexpected Joy explores this concept by introducing three generations of women who have different values, dreams, and goals. After drawing strong lines in the sand about what behaviors and thoughts each deems to be acceptable and unacceptable, at the end of the day, the question really is how can people get along and be the family they were always meant to be by finding common ground. Through laughter, tears, self-discovery, and an original and compelling score, Unexpected Joy encourages its characters, as well as the audience, to take a journey of self-discovery because, at the end of the day, we really are all just one big family.
Full casting and creatives to be announced in due course.