West End transfer of THE TWILIGHT ZONE to the Ambassadors Theatre
by Best of Theatre Staff on Monday 8 October 2018, 10:28 am in West End News & Gossip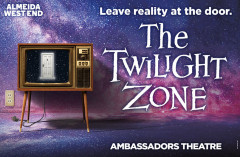 After a sell-out Almeida run, The Twilight Zone will transfer to the West End, and will run at the Ambassadors Theatre from 4 March 2019. Adapted by Anne Washburn (Mr Burns) and directed by the multi award-winning director (winner of 7 Olivier Awards), Richard Jones, this production of the acclaimed classic CBS television series The Twilight Zone is an ingenious mixture of morality tales, fables and fantasy that are as relevant today as when audiences first encountered them.
The Twilight Zone is based on original stories by Rod Serling, and two of the most frequent and celebrated contributors, Charles Beaumont and Richard Matheson from the CBS television series. It is one of television's most revered and influential science-fiction fantasy shows and ran on American network CBS from 1959 to 1964, winning 3 Emmy Awards during its 156-episode run. Its incisive parables explore humanity's hopes, despairs, prides and prejudices. The programme has had a seminal influence on popular culture; from Stephen King to Lin-Manuel Miranda, Breaking Bad creator Vince Gilligan to Steven Spielberg, The Simpsons to Black Mirror.
With the original series celebrating its 60th Anniversary Year, a new version of The Twilight Zone recently began production and is coming to CBS All Access in 2019 with Jordan Peele serving as host and narrator. The upcoming new series is produced by CBS Television Studios in association with Jordan Peele's Monkeypaw Productions and Simon Kinberg's Genre Films. Jordan Peele and Simon Kinberg serve as executive producers along with Win Rosenfeld, Audrey Chon, Carol Serling, Rick Berg and Greg Yaitanes.
The Twilight Zone stage production is presented under license by CBS Consumer Products.
Ron Fogelman, Producer, said "The impact the production had on the audience at the Almeida Theatre was wonderful, showing just how timeless these stories continue to be. Anne Washburn and Richard Jones have created a unique experience for the theatre that taps straight into the imagination."
Rupert Goold, Artistic Director, Almeida Theatre said "Half of the people who booked to see The Twilight Zone at the Almeida were visiting our theatre for the first time so it feels hugely exciting to be giving new audiences another chance to catch this extraordinary, wildly entertaining creation from Anne Washburn and Richard Jones."
Veronica Hart, Executive Vice President, CBS Consumer Products said "The play captures the thought-provoking, comedic and unnerving essence of the original Twilight Zone, allowing these powerful stories to be enjoyed in an entirely new way by a whole new audience."
The Twilight Zone has design by Paul Steinberg, with costume design by Nicky Gillibrand, lighting design by Mimi Jordan Sherin, and D.M Wood, composition and sound by Sarah Angliss, sound by Christopher Shutt, movement direction by Aletta Collins, casting by Julia Horan, and illusions by Richard Wiseman and Will Houstoun. Casting to be announced in due course.
The Twilight Zone is produced by Ron Fogelman for Your Next Stop Limited and the Almeida Theatre. Kenny Wax is executive producer.
Anne Washburn'slatest play Shipwreck will make itsworld premiere at the Almeida Theatre in February 2019, directed by Rupert Goold. Her other plays include the The Twilight Zone, which ran at the Almeida in 2017/18 and her play Mr Burns: A Post Electric Play, which was recently listed as number 4 on The New York Times list of 25 Best American Plays since Angels in America, which premiered at the Woolly Mammoth in DC in 2012 and ran at the Almeida in 2014.Other plays include 10 out of 12 (Premiere: at Soho Rep, NYC), Antlia Pneumatica (Premiere: Playwrights Horizons, NYC), The Communist Dracula Pageant (Premiere: ART, Boston), A Devil at Noon (Premiere: Actors Theater of Louisville, Kentucky), I Have Loved Strangers (Premiere: Clubbed Thumb Summerworks, NYC), The Internationalist (Premiere: 13P, NYC), The Ladies (Premiere: The Civilians, NYC), Little Bunny Foo Foo (Premiere: Actors Theater of Louisville, Kentucky), The Small (Premiere: Clubbed Thumb Summerworks, NYC), and transadaptations of Euripides' Orestes (Premiere: The Folger, Washington D.C.), and Iphigenia In Aulis (Premiere: Classic Stage Company, NYC). Awards include a Guggenheim, an Alpert, and a Laura Pels for an artist in mid-career. She is an associated artist with The Civilians, Clubbed Thumb, New Georges, and is an alumna of New Dramatists and 13P.
Richard Jones (Director) has directed theatre at the Young Vic, the Old Vic, the National Theatre, the West End, the Royal Court/ Ambassadors, the RSC, in New York at the Public Theatre, and three times on Broadway. He has directed opera at the Royal Opera House, the ENO, Aix en Provence, Paris, Amsterdam, Glyndebourne, La Scala, Frankfurt, Munich, Berlin and at the Met in New York. In theatre he has been awarded Olivier awards for Too Clever by Half (Old Vic) and Into the Woods (Phoenix Theatre, West End) and the Evening Standard Award for best director for The Illusion (Old Vic). He was nominated for a Tony award for La Bete on Broadway. He has been awarded three Olivier awards in opera for Hansel and Gretel(WNO), Lady Macbeth of Mtsensk (ROH), and for The Mastersingers of Nuremberg (ENO) - this production was also awarded a South Bank Show Award. He was given the Evening Standard Award for outstanding artistic achievement for his production of Wagners Ring at the Royal Opera House and last year his Old Vic production of The Hairy Ape played at the New York Park Armory and was nominated for 6 Drama Desk nominations.
He was appointed CBE in the 2015 New Year's Honours list.