Mark Puddle sells The Lord Chamberlain's Men to Peter Stickney for an undisclosed sum
by Best of Theatre Staff on Thursday 28 April 2016, 1:12 pm in West End News & Gossip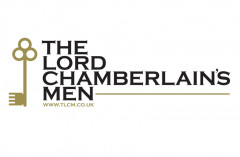 In May 2016, Peter Stickney will take over from Mark Puddle as the new owner and Artistic Director of The Lord Chamberlain's Men.
Mark, who created the company in 2005, will complete the handover in May. Peter, who is about to direct his first production for the company, performed as an actor with The Lord Chamberlain's Men in 2007 and 2008 and has been the associate producer for the last three years.
Peter said, "Since I first performed with the company in a tour of Romeo and Juliet. I knew that I was part of something special. The venues the company performs at, the strong following the company has and the unique nature of playing Shakespeare as he intended it to be seen, in the open-air with an all-male cast. I was hooked! I returned the following year to perform again and have worked for the company ever since."
It has been eleven years since Mark Puddle, when aged just 25, convinced Buckingham Palace that he should be allowed to recreate The Lord Chamberlain's Men (TLCM)*. In that first year, 2005, TLCM toured to a few venues, a handful of audience members and the odd peacock! They now play to over 40,000 audience members a year at 80 of the most beautiful and historically important venues in the country.
Puddle, 36, is credited with creating an artistically vibrant theatre company that has produced clear, bold storytelling coupled with huge commercial success. All this accomplished without any Arts Council funding or grant aid, surviving on ticket sales alone. One of his proudest achievements, he said, was "that we led the way in creating the outdoor Equity Guidelines and as such the open-air sector is a much safer and more reputable place to work than when we first started."
Over the last eleven years, TLCM has travelled more than 100,000 miles, to over 200 venues in seven different countries and performed in excess of 1,000 shows to more than 300,000 people. The company travels the whole country from Truro to Inverness and everywhere in between, including an international leg of the tour, which this year takes in France, Holland and Germany. The company have added a few new venues this year as well as returning to all their old favourites.
On what to expect in this next chapter for the company Stickney said, "First and foremost, I'm not going to fix what isn't broken. Mark has done a fantastic job. To build a theatre company from scratch with no public funding whatsoever, surviving purely on ticket sales, is incredible in this day and age. What I am looking to do is explore new opportunities. We are well known, and rightly so, for our fantastic open-air tour in the summer but I am keen to see us move indoors as well, to theatres or other performance venues to give the company a year-round presence and allow us to tackle other of Shakespeare's great plays and perhaps, even, other authors. I also aim to raise the international profile of this magnificent company."
Mark Puddle added, "I am delighted that The Lord Chamberlain's Men will be owned and managed by a former actor of the company. Peter's energy, love of Shakespeare and passion to take the company forward means that he is the right person to build on the considerable achievements of the last eleven years. I want to thank our amazing audiences, venues and team for what has been a remarkable eleven years and hope everyone continues to join Peter and The Lord Chamberlain's Men on the next chapter of this extraordinary journey."
Peter's first production as Artistic Director is Much Ado About Nothing. The cast includes James Lavender, Jon Tozzi, Jordan Bernarde, Joshua Meredith, Matthew McFetridge, Nathan Coenen and Oliver Buckner. It opens on 8th June and then tours nationally until 4th September before heading to France, Holland and Germany and finishing on 25th September.
Peter Stickney summed up by saying, "It is a huge honour to be taking over the artistic direction of The Lord Chamberlain's Men. I look forward to taking the company on into the next decade and beyond!"
NOTES:
The Lord Chamberlain's Men was a playing company for whom William Shakespeare wrote for most of his career. Richard Burbage played most of the lead roles, including Hamlet and Macbeth, while Shakespeare himself performed some secondary roles. By 1603, it was one of the two leading companies of the city and was subsequently patronised by James I, becoming The King's Men.
*Because there is a Lord Chamberlain within the Royal Household, Mark Puddle had to ask their permission to use the name for the theatre company.