THE LAST TEMPTATION OF BORIS JOHNSON full cast announced
by Best of Theatre Staff on Thursday 14 March 2019, 10:17 am in Cast Changes and Announcements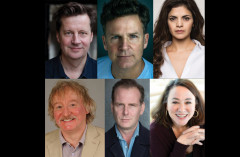 Full casting has been announced for The Last Temptation of Boris Johnson, the new Brexit-inspired comedy drama from journalist, broadcaster and playwright Jonathan Maitland (An Audience with Jimmy Savile, Dead Sheep).
Directed by Lotte Wakeham (Artistic Director of the Octagon Theatre, Bolton), this world premiere will play at Park Theatre from 9 May to 8 June 2019, with a press night at 7.00pm on Monday 13 May.
It was the dinner that changed history: the night in February 2016 when Boris Johnson decided to vote 'leave'. Guests included fellow MP Michael Gove and his wife columnist Sarah Vine, media mogul Evgeny Lebedev, and, for Boris at least, the spirits of past Prime Ministers – Margaret Thatcher, Winston Churchill and Tony Blair.
Fast forward to post-Brexit Britain, 2029: a country divided. Boris is back in the political wilderness and has ambitions to make Britain great again, but what are his true intentions?Navigating a career in politics and the media, Boris remains as divisive as ever and in an unexpected turn of events, soon finds himself mired once again in controversy.
Jonathan Maitland says of his play and protagonist "Boris Johnson is the perfect subject: compelling, colourful, deeply divisive, hugely influential. It was he, perhaps more than anyone, who changed the course of our recent history. Without him, Leave might well have lost in 2016. And he might be our next Prime Minister.
"But this play isn't just about him. It's about power: the lust for it and the cost of it.
"It's also the ultimate dramatic moving target, which makes it challenging to stage, but also, hopefully, entertaining, exciting and relevant for the audience. During the course of writing this play, things have become increasingly chaotic and unpredictable which is why we'll be updating the script, nightly if necessary, to keep up with events."
Leading the cast as Boris Johnson will be Will Barton. Barton has played Boris before, in the 2017 BBC2 drama Theresa V Boris, and his most recent theatre credits include The Libertine at The Theatre Royal Haymarket, Toast at Park Theatre and in New York and Fings Ain't Wot They Used T'be at Theatre Royal Stratford East. Also in the cast will be Dugald Bruce-Lockhart (a long-standing member and associate director of Edward Hall's Propeller, where roles included Henry V, Petruchio, Lysander and Olivia, and West End appearances include Freddie in The Deep Blue Sea and Bill Austin in Mamma Mia!) as Michael Gove, Davina Moon (London theatre credits include Yellow Face at Park Theatre and National Theatre, Privates On Parade at the Noël Coward, Annie Get Your Gun at the Young Vic, Miss Saigon at the Theatre Royal Drury Lane and Bombay Dreams at the Apollo Victoria) as Marina Wheeler / Anita (Boris's girlfriend), Steve Nallon (a founding member of Spitting Image, providing voices for Alan Bennett, David Attenborough, Margaret Thatcher, Roy Hattersley etc, and recent theatre roles includes Sir John Gielgud in In the Life at St James Theatre and Margaret Thatcher in Dead Sheep at Park Theatre and UK Tour) as Margaret Thatcher, Tim Wallers (Prince Andrew in The Windsors on Channel 4 and Netflix, An Ideal Husband at The Vaudeville Theatre, Travesties at The Menier Chocolate Factory and Apollo Theatre West End, and Dead Sheep at Park Theatre) as Evgeny Lebedev / Tony Blair / Huw Edwards and Arabella Weir (The Fast Show, Harry Enfield and Chums, Randall and Hopkirk (Deceased), Spooks, Posh Nosh, Skins, Drifters, Two Doors Down and Pure, all on TV, and her first two novels, Does My Bum Look Big In This? and Onwards and Upwards, were both international best sellers) as Sarah Vine / Chief Whip / Winston Churchill.
The Last Temptation of Boris Johnson will be directed by Lotte Wakeham, with set and costume design by Louie Whitemore, lighting design by Christopher Nairne and sound design by Andy Graham.
This project has been co-funded by Art50, a scheme commissioned by Sky Arts to explore the notion of British identity in the wake of Brexit.