UK Première of Jordi Galceran's THE GRÖNHOLM METHOD
by Best of Theatre Staff on Tuesday 3 April 2018, 10:54 am in Upcoming and New Shows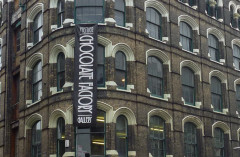 The Menier Chocolate Factory today announces the UK première of Jordi Galceran's The Grönholm Method, directed by BT McNicholl making his UK directorial debut. The production opens on 22 May, with previews from 10 May, and runs until 7 July.
Set in the offices of a New York City Fortune 500 company, 4 unsuspecting candidates embark on the most testing job interview of their lives.
This taut play - which premièred in Barcelona in 2003 to great critical acclaim, exposes the psychological depths people will go to in order to get what they want.
In our age of reality TV game shows and tweeting US presidents, The Grönholm Method explores the human capacity to manipulate, lie and 'play the game' to get ahead in life.
Jordi Galceran (b1964) is a Catalan playwright, screenwriter and translator. In 1995 he submitted two scripts to play competitions - Paraules Encadenades (Word Play) (1995) won the 20th Born Theatre Award (organized by the Artistic Circle of Ciutadella, Menorca) and the Serra d'Or Critics Award for Theatre in 1997, and Dakota was awarded the Ignasi Iglésias Award in 1995 by the Institut del Teatre of the Diputació de Barcelona. His other works include Surf (1990), Fuita (1994), Gaudí (2002), Paradis (2000), Carvival (2006), Cancun (2008), Burundanga (2011) and Credit (2013). The Grönholm Method (2003) is perhaps his most recognised international success, with productions in over 60 countries. He has translated and adapted more than twenty plays, and in addition to theatre work, he has worked as a writer for several television series and has written eight feature films.
BT McNicholl is currently the director of the national tour of the Broadway hit Cabaret. Mentored by director Mike Nichols, McNicholl has served on the creative team of a dozen Broadway plays and musicals (including the Tony-winning Spamalot and Billy Elliott), with directors including Sam Mendes, Rob Marshall, James Lapine, Jerry Zaks, Stephen Daldry and David Hare. He won the Helpmann Award in Australia for Best Director for Cabaret, and has staged long-running productions of it in Paris, Madrid and Amsterdam. Regionally in the US, he has directed award-winning productions of Camilla (Walnut Street Theatre, Kleban Award), Very Good Eddie (Goodspeed Opera House; Best Musical) and The Cherry Orchard (Dorset Theatre Festival). Other work includes staging national tours for Disney, Spamalot at the Hollywood Bowl, and working with Stephen Sondheim to create a concert version of A Little Night Music. In Hollywood, he has worked on Scott Rudin films, most recently as an acting coach on the Oscar-nominated Extremely Loud and Incredibly Close.
A published playwright and BMI Award-winning lyricist, he wrote the book and lyrics for The It Girl and The 101 Dalmatians which was staged at Madison Square Garden. McNicholl served as a Development Consultant for MGM's theatrical division, spent three years with the Shubert Organization and is now the Producing Artistic Director of La Mirada Theatre in California.