The Commitments Review
by Oliver Mitford on Thursday 17 October 2013, 9:23 am in London Theatre Reviews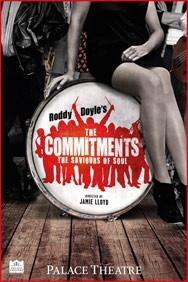 Jam-packed with soul and dynamism, The Commitments explodes to chaotic life on the stage of the Palace Theatre.
Back in 1987, author Roddy Doyle encapsulated the music of a generation when he penned The Commitments. He showed the impact that Motown and all manner of soul hits from Atlantic Records' had on teenagers in the 1980s and cleverly captured the chaotic excitement of making music for the first time. The story received a film treatment at the hands of director Alan Parker, but now The Commitments comes to the West End stage under the watchful eye of wunderkind director Jamie Lloyd. Devoid of sentiment and sickly-sweet songs, this musical is a whirlwind of youthful energy, gritty narrative and that all important mercurial element … soul.
Set in Dublin, Ireland, The Commitments tells the raucous tale of a band and its journey from difficult beginnings to the heady heights of success. Young music impresario Billy Rabitte (Dennis Grindel) spends all day in his room listening to soul music and decides to put a band together. After some disastrous auditions, he comes across an old rocker named Joey 'The Lips' Fagen (Ben Fox) who claims he has worked with everyone… even the Beatles!
This musical is a whirlwind of youthful energy, gritty narrative and that all important mercurial element … soul.
Under Joey's watchful eye, Billy puts together his band consisting of three beautiful lady backing singers, a maniac drummer named Jimmy, a butcher-cum-bassist, a medical student-cum-pianist and a saxophonist named Dean. The final piece of the puzzle comes in the form of lead singer Deco (Killian Donnelly). As they take their first stumbling and out-of-tune steps into making music in Joey's garage, it all seems a waste of time. However, after a lot of blood, sweat, tears – and, of course, practice, practice, practice – the band starts to sound as soulful as the Motown greats that have inspired them. But after Deco's ego become unmanageable, the band of young friends start to crack under the pressure…
Jamie Lloyd has a firm hand on this production and, boy, does it need it. The chaotic and riot-like staging looks at first glance to be a total mess, but as the production whips along; it becomes clear that there is method to his madness. The chaos on stage has been choreographed to within an inch of its life, allowing little room for error and creating a fluid production that draws the audience into the gritty world of working-class Dublin. Soutra Gilmour has designed a bleak set that effectively conjures up the idea of rough and run-down council estates and community halls of a society in the dumps. Irish mothers hang out their laundry from the housing block balconies and young thugs swagger past grimy launderettes and fluorescent strip-lighting flickers in small supermarkets. Gilmour and Lloyd have cleverly made the stagehands part of the action, dressed as 80s' Dubliners, they wheel on instruments and push off large pieces of set, like roadies at a gig. We are taken from council flat to local pub, then to disco club, concert hall, even a butchers shop. Organised chaos of the highest order.
The entire young cast are truly outstanding...
The entire young cast are truly outstanding, but special mention must go to Killian Donnelly, whose obnoxious outbursts rival his spine-tingling soulful voice. Donnelly struts across the stage as if he owns it; the thing is, he does! His energy is infectious, sending ripples of excitement through the rows of audience every time it looks like he is about to sing. There is one hilarious moment where Donnelly proceeds to eat a wrap of chips, whilst still belting out a soul number. Now if that's not talent, what is? Dennis Grindel brings a cocky charm to Billy Rabitte and his naive confidence never spills over into anything hateful. We get right behind him and root for this loveable underdog. Stephanie McKeon gives Natalie all the sass and bite of a classic soul diva and her version of 'Think!' blows the roof off the Palace Theatre.
Roddy Doyle has sharpened the dialogue for this musical re-working, giving each character their fair share of cutting one-liners and high four-letter word count. The gritty wit shines through and is interspersed well within the musical numbers. The only downside to having so many characters on stage at once is the cross-shouting, that means you never know who is saying what to whom.
The Commitments is the perfect antidote to the plethora of sentimentality that is so often seen on stages in London's West End. We are shown the passion and commitment that this gang of kids have, desperate to escape a life on the dole. The show really does have soul, in more ways than one.