Menier Chocolate Factory: The UK première of SPAMILTON: AN AMERICAN PARODY goes on sale at 9am
by Best of Theatre Staff on Wednesday 16 May 2018, 7:43 am in Theatre News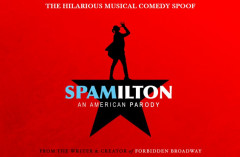 As the UK première of Spamilton: An American Parody goes on sale to the public, the Menier Chocolate Factory announce a brand new pricing policy across the season – tickets will be available for all performances of Spamilton, and The Grönholm Method from just £19.50. These tickets go on sale at 9am on 16 May, and are available to everyone to enable work at the company's home to be accessible to all.
With The Grönholm Method currently previewing at the Menier, the critically acclaimed Travesties recently opened on Broadway and The Color Purple on tour in the US, Spamilton: An American Parody opens at the theatre on 24 July, with previews from 12 July and runs until 8 September. The production renews Gerard Alessandrini's collaboration with the Menier following two critically acclaimed seasons of Forbidden Broadway which ran both at the theatre and in the West End. Over 1000 tickets across the run will be available at £19.50.
Hamilton – Olivier, Tony, Pulitzer and Grammy Award-winning musical. Very few tickets available.
Spamilton: An American Parody – Hamilton and much more. With tickets available…
Gerard Alessandrini brings his singular wit to the all-conquering musical Hamilton – in the words of its creator Lin Manuel Miranda, "I laughed my brains out". Following the success of Forbidden Broadway, Alessandrini returns to the Menier to lampoon the multi-award-winning Hamilton, with Spamilton: An American Parody, which not only takes target at Broadway's biggest export, but a host of the theatre world's biggest names and musicals.
Described by the New York Times as "smart, silly and convulsively funny", Spamilton: An American Parody makes its UK debut at the Menier Chocolate Factory, where unlike the Victoria Palace, there are tickets available - at a fraction of the price.
Gerard Alessandrini is best known for creating and writing all 25 editions of Forbidden Broadway in New York, Los Angeles, London and around the world. He features in the original 1982 cast of Forbidden Broadway, and can be heard on four of the show's twelve cast albums. He also sings on the soundtracks of the Disney classics Aladdin and Pocahontas. Television credits include writing comedy specials for Bob Hope, Angela Lansbury, and Carol Burnett. Directing credits include Maury Yeston's musical In the Beginning, and a revue focusing on Yeston's songs Anything Can Happen (In the Theatre). Recent musicals which he co-wrote and/or directed include Madame X (NYMF 2011) and The Nutcracker and I (a complete Tchaikovsky score with all new lyrics by Alessandrini). He is the recipient of an Obie Award, two Lucille Lortel Awards, a Lifetime Achievement Award from the Drama League, and seven Drama Desk Awards - including two for Best Lyrics, and two Special Lifetime Awards. He was also awarded an Honorary Tony Award for Excellence in Theatre.
Choreography is by Gerry McIntyre, with Arrangements by Fred Barton and Musical Direction by Simon Beck; Set Design is by Morgan Large, with Costume Design by Dustin Cross, Lighting Design by Tim Lutkin, and Sound Design by Gregory Clarke and Jon Everett.
Produced in association with John Freedson, David Zippel and Christine Pedi.