Spamalot extends West End run at the Playhouse Theatre
by Oliver Mitford on Monday 9 September 2013, 1:45 pm in West End News & Gossip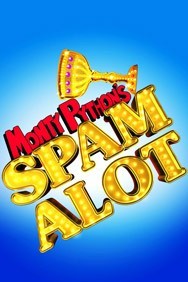 The hilarious Monty Python musical Spamalot announced that it has extended its run at the Playhouse Theatre to 8 February 2014. It was also announced that original Monty Python member Michael Palin will appear as one of the 'celebrity gods' that pop up during the course of the show on screens. Previous 'gods' include Hugh Bonneville, Barbara Windsor, Simon Callow and Christopher Biggins.
The current cast includes comedian and actor Les Dennis as King Arthur, while Bonnie Langford plays The Lady of The Lake. Warwick Davis joins the cast as Patsy from 23 September through to 19 October 2013.
Spamalot tells the very tongue-in-cheek story of King Arthur and his Knights of the Round Table as they set out upon a long and dangerous journey to find the legendary Holy Grail. The show features the hilarious songs 'He Is Not Dead Yet', 'Find Your Grail' and, of course, the nation's favourite comedy song 'Always Look On the Bright Side of Life'.