New Play THE SHY MANIFESTO to Tour 2019 with Theo Ancient
by Best of Theatre Staff on Thursday 8 November 2018, 11:47 am in Upcoming and New Shows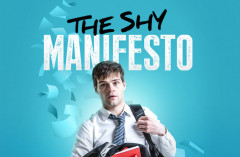 Joe C. Brown and Anthony Hollis Productions are delighted to announce the tour of a new one-man play THE SHY MANIFESTO, written by Michael Ross, directed by Cat Robey and starring Theo Ancient (Albus Potter in Harry Potter and the Cursed Child). THE SHY MANIFESTO will open at Live Theatre, Newcastle on 29 January 2019, before touring nationally.
THE SHY MANIFESTO is a bittersweet coming-of-age comedy drama about a shy boy who has had enough of constantly being told to come out of his shell. 17-year-old Callum is proud to be shy and he thinks you should be too, because what this noisy, crazy world really needs right now is some more self-restraint. Callum delivers his manifesto, exploring adolescence, isolation, self-loathing and sexuality, and encourages his audience of radical shy comrades to finally rise up and inherit the earth. However, will memories of the previous night's drunken escapades at a classmate's end-of-term party upend the fragile identity he has created for himself?
Alongside the show, the producers are pleased to be able to offer workshop sessions facilitated by Theo Ancient. THE SHY MANIFESTO has strong themes that are relatable to many young people, and Theo would like to offer the opportunity for the exploration of these themes through drama. Theo has over six years' experience running workshops and education programmes, and he feels passionately about bringing drama opportunities to all young people, especially those living in hard-to-reach areas. These workshop sessions can cater for a range of ages and/or examination boards to ensure they meet the aims of the curriculum.
Producers Joe C. Brown and Anthony Hollis said of THE SHY MANIFESTO: "Shyness is one of those paradoxical things - so many people experience it, and yet each sufferer feels uniquely alone. The Shy Manifesto takes this experience as its central subject, something which has rarely been explored in drama, and invites the world to embrace it as a positive personality trait."
Michael Ross, the playwright, added: "I'm thrilled that The Shy Manifesto is touring to so many great venues across the country and I'm really interested to see how different audiences respond to the show."
Michael Ross's previous plays include Happy To Help (Park Theatre, 2016) and Work Makes You Free (VAULT Festival 2018). His play Eyes Full of Pornography was selected for the 2017 Samuel French Off-Off Broadway Festival in New York and he is currently collaborating with Metamorph Theatre on a new play, The Good Landlord, for production in 2019.
Theo Ancient recently starred as Albus Potter in Harry Potter and the Cursed Child in the West End. Other theatre includes Hatch (Park Theatre), The Hatchling (Theatre Royal Haymarket), Where the Wild Things Are (The Place Theatre, Bedford), All One Fabric (The Yard Theatre), Faith (Courtyard Theatre) and Boys Plays (Above the Stag Theatre). He will be starring in the Christmas 2018 production of Box Of Delights at Wilton's Music Hall.
Cat Robey is Associate Director of award-winning company Ransack Theatre, and Metamorph Theatre, and was Resident Trainee Director at Manchester's HOME from 2015-16. Directing credits include The God Delusion (Chorlton Arts Festival), After Party (Pleasance), Catching Up (N16), No Signal (RADA), Enveloped in Velvet (Arts Theatre), Yerma (Fourth Monkey), Hatch (Park), Freedom, Books, Flowers, and the Moon (Waterloo East), and Ondine (White Bear) for which she was nominated Best Director by the Off West End Awards. Cat has also directed three award-winning musicals: Beauty and the Beast, Buzz and Tom and Bunny Save the World.
Joe C. Brown recently produced La Bohème at Trafalgar Studios, which was nominated for a 2018 Olivier Award for Best New Opera Production. Other recent producing credits include Coming Clean (Trafalgar Studios 2), The Worst Little Warehouse In London (International Tour) and Iconic – A Brief History of Drag (International Tour). Joe is currently General Manager for Selladoor Worldwide and previously was Associate Programmer & Producer for Assembly Festival and Production Associate for Emma Brunjes Productions.
Anthony Hollis has developed multiple award-winning and nominated productions, specialising in site-specific and immersive content internationally. Notable credits include Inside Pussy Riot (Saatchi Gallery), Dinner at the Twits (The Vaults), The Terrible Infants (Wilton's Music Hall), The Trench (Southwark Playhouse), plus international tours of First Hippo on the Moon and Captain Flinn and the Pirate Dinosaurs.
THE SHY MANIFESTO's set and costume design is by Charlotte Henery, with lighting design by Charlie Morgan Jones, and sound design by Alistair Lax.