Improvised musical Showstopper! transfers to the West End
by Oliver Mitford on Tuesday 18 August 2015, 11:45 am in Upcoming and New Shows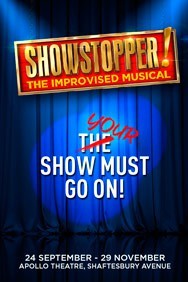 A staple of the Edinburgh Fringe Festival, Showstopper! has been keeping audiences in fits of laughter for over eight years at the month-long theatre and comedy festival, but now the show will delight audiences in London's West End when it transfers to the Apollo Theatre later this year.
The multi award-winning production is due to arrive at the Apollo Theatre on 24 September 2015 and run for just under 10 weeks, ending on the 29 November 2015.
Showstoppers! unites a troop of truly talented performers tasked to improvise a completely brand-new musical each and every night. The audience suggest characters, situations, plots and styles that the group must use to create the musical. No song or scene is pre-planed or rehearsed, just pure, unadulterated improvisation of the highest and funniest quality. The performers are joined on stage by a live band of equally talented musicians that riff off the suggestions posed by the audience.
Created by Dylan Emery and Adam Meggido, Showstoppers! has been heard on BBC Radio 4 and numerous recorded performances around the country. The team behind the hugely entertaining show have also created full-length improvised musicals such as the aptly titled Sweeney Cod, and Emotional Baggage, set in Heathrow Airport.
Showstoppers! runs at the Apollo Theatre in London's West End from 24 September to 29 November 2015. The show is different each night, so many people make a return visit for more improvised hilarity.