SATURDAY NIGHT FEVER opens at the New Wimbledon Theatre in August 2018
by Best of Theatre Staff on Friday 9 March 2018, 10:16 am in Upcoming and New Shows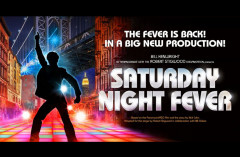 BILL KENWRIGHT by special arrangement with the ROBERT STIGWOOD organisation presents A NEW PRODUCTION OF THE HIT MUSICAL SATURDAY NIGHT FEVER based on the Paramount/RSO Film and the story by Nick Cohn, adapted for the stage by Robert Stigwood in collaboration with Bill Oakes.
Marking 40 years since its famous UK cinema release, SATURDAY NIGHT FEVER is reimagined and revitalised in a big new music and dance spectacular.
The 1977 Travolta classic movie was an instant hit when it was released in cinemas, and the album is still one of the best-selling movie soundtracks of all time.
Whilst paying homage to the movie, this new stage version also promises more drama, more music and hot new choreography, which is sure to have audiences on their feet and dancing the night away!
Opening in London at the New Wimbledon Theatre on 30 August 2018, a nationwide tour includes Liverpool, Birmingham, Bristol, Aylesbury, Glasgow, Edinburgh, Llandudno and Cardiff.
SATURDAY NIGHT FEVER tells the story of Tony Manero, and his reckless, yet thrilling road to dancing success. It features the Bee Gees greatest hits including Stayin' Alive, How Deep Is Your Love, Night Fever, Tragedy and More Than a Woman as well as 70's favorites Boogie Shoes, Disco Inferno and many more.