Full Casting announced for THE RUBENSTEIN KISS
by Best of Theatre Staff on Tuesday 15 January 2019, 10:10 am in Cast Changes and Announcements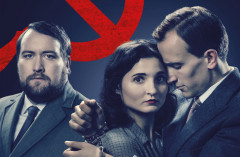 Devil You Know Theatre Company are delighted to announce full casting for the first London production since 2005 of the multi-award winning play THE RUBENSTEIN KISS by James Phillips.
This new production will star Ruby Bentall as Esther Rubenstein. Ruby is perhaps best known for playing Verity in the BBC's adaptation of Poldark. Other notable acting credits include Hils in ITV's Jekyll & Hyde, Minnie Mude in BBC's Lark Rise to Candleford and Mary Bennett in BBC's Lost in Austen. She's also had film roles in Ridley Scott's Robin Hood, Mr Turner directed by Mike Leigh, and Armando Iannucci's forthcoming adaptation of David Copperfield.
Esther's husband Jakob Rubenstein will be played by Henry Proffit. Henry's stage credits include For King and Country (Southwark Playhouse), Great Expectations (York Theatre Royal), Kindertransport (UK Tour), and A Dance of Death (Finborough Theatre).
Sean Ribgy will play David Girshfeld. Sean has starred as DS Jim Strange in ITV's Endeavour since 2013, and is also known for his role as Lord Monteagle in the BBC drama Gunpowder. His theatre credits include Pomona (National Theatre, Orange Tree Richmond), Table Talk (Short Back And Sides), and Still Life And Red Peppers (Folie a Deux Productions).
FBI Agent Paul Cranmer will be played by Stephen Billington. Stephen's acting credits include television roles in Armchair Detectives (BBC), Danny Lomax in Hollyoaks (Channel 4), Greg Kelly in Coronation Street (ITV), Edward Thurlow in Casualty (BBC), Doctors (BBC), and Jonathan Creek (BBC). On stage he has starred in The Crucible (York Theatre Royal), Peter James's Not Dead Enough (UK Tour), and Alan Ayckbourn's Hero's Welcome and Confusions (UK Tours, Brits Off Broadway). He also played Phillip in Mel Gibson's 1995 film Braveheart.
Matthew will be played by Dario Coates. Dario's television acting credits include Damned (Channel 4), Endeavour (ITV), The Coroner (BBC), Drifters (E4) and Alex Neeson in Coronation Street (ITV).
Completing the cast are Katie Eldred as Anna, and Eva-Jane Willis as Rachel Girshfeld.
Directed by Joe Harmston (The Lover and The Collection, Donmar Warehouse; The Father, Belgrade Theatre, Coventry) this new production will play for a limited season at Southwark Playhouse from 14 March to 13 April 2019, with a national press night on Monday 18 March.
James Phillips said, "I'm thrilled about Joe Harmston's new production of The Rubenstein Kiss, and I can't wait to see the exciting new generation of actors he's assembled in these roles I love. Our current, dangerous, fraught political moment - where so many are trying again to test the limits of political idealism, where we read daily of Russian agents in this country and in the United States - seems a perfect time from him to revive the play."
THE RUBENSTEIN KISS is the story of the Rubensteins, a deeply devoted Jewish couple whose Communist idealism leads to their world being torn apart by suspicion and treachery which then echoes through the generations. Phillips's explosive and affecting drama, inspired by the haunting true story of Ethel and Julius Rosenberg, who were executed in 1953 for allegedly providing atomic secrets to the Soviet Union, is the study of conspiracy, betrayal, and guilt.
THE RUBENSTEIN KISS was originally staged in 2005 at Hampstead Theatre starring Gary Kemp and Samantha Bond, winning the John Whiting Award and the TMA Award for Best New Play.
THE RUBENSTEIN KISS has set design by Sean Cavanagh, sound design by Matthew Bugg, lighting design by Mike Robertson, and casting by Kate Plantin CDG. THE RUBENSTEIN KISS is produced by Devil You Know Theatre Company.