Rock Of Ages - Show of the Month
by Oliver Mitford on Friday 2 August 2013, 10:13 am in Show of the Month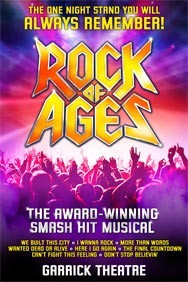 Rock Of Ages blows the roof off London's Garrick Theatre!
Rock Of Ages is the epitome of irreverent theatre. This five-time Tony nominated musical has been wowing audiences at the Garrick Theatre in London's West End, following a year of ovation-inducing performances at the Shaftesbury Theatre. The show is built around the classic rock hits of the 1980s, including songs from the infamous glam metal bands such as Poison, Twisted Sister and Bon Jovi.
From the moment the lights dim, you are plunged into a world of sex, drugs and rock'n'roll, populated by scantily clad strippers, egotistical rock stars, bad language and even worse haircuts. A light and frivolous night at the theatre it is not, but for those that want to relive their days of head-banging and anarchy, then Rock Of Ages will hit just the right spot!
Set in Los Angeles on the legendary Sunset Strip circa 1987, this rock love story follows a young wannabe rocker named Drew (Ross Hunter), who by day, pours drinks in a seedy bar - The Bourbon Room - but by night, plays his guitar and writes rock anthems, always dreaming of making it big. One day, as fate would have it, a beautiful young girl named Sherrie (Natalie Andreou) arrives at the bar straight from small-town Kansas, filled with her own dreams of becoming a Hollywood movie star. Both Drew and Sherrie are pursuing their dreams and looking for love, but what they don't expect is rock star Stacee Jaxx and his ability to turn any women he meets into his possession...
The musical, written by Chris D'Arienzo, premiered in LA in 2006. It then opened Off-Broadway in October 2008, before transferring to Broadway's Brooks Atkinson Theatre in April 2009 and, subsequently, the Helen Hayes Theatre having done so well on Broadway and with the London opening night looming back in September 2011, producers feared that a UK audience wouldn't quite understand the very American humour of the writing, but their fears were assuaged, as night after night audiences were stomping their feet and rolling in the aisles. It seems that D'Arienzo has tapped into a universal concept with his breaking of the 'fourth wall'. The actors constantly break out of the action onstage and address the audience directly, usually to great comic effect. This constant reminder that you are watching actors perform in a musical keeps the show's tongue firmly in its cheek, never getting too serious and allowing the actors to be larger than life - a recipe for much hilarity and entertainment.
Kristin Hanggi's direction is clever indeed, as she plays on the very theatrical nature of the show, creating a production full of moments that are so cheesy or tacky they become brilliantly funny. For example, a waitress dances across the stage with a tray of drinks, flipping and twirling as she goes, obviously showing that the drinks are stuck down fast to the tray. There are many other moments of this sending-up of musical theatre, which is a breath of fresh air from the usual West End musical. Hanggi has also kept the pace fast, leaving little down-time between 80's hit after hit, letting the songs tell the story just as much as the dialogue.
This high-energy direction is made all the more potent by Kelly Devine's raunchy and high-octane choreography which sees fishnet clad legs kicking high in the air and long-haired rockers jumping around as though they were performing in a giant stadium. There is one particular scene where Sherrie, having taken a job as a stripper, performs a striptease with four of the other girls to the song 'I Hate Myself For Loving You'. This dance is by far and away one of the best bits of choreography that can be seen in London's West End. The five girls, clad in what can only be described as ripped bikinis, bend, snap, flip and split their legs as though their lives depended on it. It is heart-stopping stuff!
Production designer Zak Borovay has once again transformed the Garrick Theatre into a club straight out of the Sunset Strip, giving the audience a trip down Eighties rock memory lane, with band posters and period pop-culture references hanging from every available space in the auditorium. The set itself is wonderfully inventive, with rooms that swing out from corners and even an old Chevy; but Borovay's real stroke of genius is to have the band onstage. Right at the back, dead centre, the audience can see the band throughout the production, reminding us all that along with the hell raising and drinking, rock bands are incredibly talented musicians.
The ensemble cast of Rock Of Ages seem to be having just as much fun as the audience are and their electric energy is infectious. Ross Hunter's Drew is naively charming while, at the same time, still managing to be smolderingly dark. He belts out number after number with as much gusto as he can manage. It's no wonder he gets the biggest round of applause at the curtain call, he's earned it. Natalie Andreou gives Sherrie an alluring magnetism and she also does every song justice. The star performance though, goes to Simon Lipkin as the narrator character of Lonny. Lipkin gets to interact with the audience on many occasions and his clever improvisations get the biggest laughs of the night, especially when he forgets to tell the next part of the story because he is too busy chatting up an attractive lady on the front row!
Throughout the production, the audience are treated to a vast array of memorable rock hits such as, Don't Stop Believin', We Built This City, The Final Countdown, Wanted Dead or Alive, Here I Go Again, Can't Fight this Feeling and I Want To Know What Love Is. Even the most somber of audience members will find it hard not to clap or sing along to these timeless classics. Rock Of Ages really is the show for anyone who wants a break from reality and be shamelessly entertained by this riotous musical comedy.
Rock Of Ages is now booking until November 2013 at the Garrick Theatre, so put your eyeliner on and book your tickets today!