Rock of Ages due to finish its West End run at the Garrick Theatre in November
by Oliver Mitford on Monday 19 August 2013, 2:36 pm in West End News & Gossip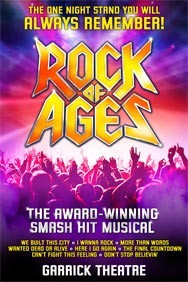 It is with a very heavy heart that American import Rock of Ages posted its closing notice. After over two years of phenomenal success at both the Shaftesbury and Garrick Theatres, the metal musical will take its final bow on 2 November.
This may be the last we see of Rock of Ages in London's West End, but it is due to tour the UK in the New Year, so those yet to rock out to the smash hit musical still have the chance to catch it!
Rock of Ages celebrates 1980's rock culture, and is set in LA's infamous Sunset Strip. It follows the story of a small-town girl who meets a big-city rocker in LA's most famous rock club as they fall in love to some of the greatest songs of the decade, including 'Wanted Dead or Alive', 'I Want to Know What Love Is' and 'Don't Stop Believin''.
The show has been seen by almost half a million people worldwide, with productions to be found in New York, Las Vegas and Stockholm. There is also a new big-screen version starring Tom Cruise, Alec Baldwin and Russell Brand.
The show has its fair share of high-profile fans including, Cilla Black, Jeremy Clarkson, Britney Spears and even eyeliner sporting rock star Alice Cooper, who made a surprise appearance on stage at the London show to sing his 70's hit 'School's Out'.
Rock of Ages must close on 2 November, so get booking now before it's too late!