Review Ralph Fiennes in MAN & SUPERMAN at the National Theatre
by Phil Willmott on Friday 6 March 2015, 9:24 am in London Theatre Reviews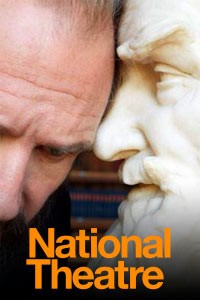 MAN AND SUPERMAN is massive. It's massive because of its playing time (anything up to four hours) the density of the philosophy it contains and because it's a major event when an actor is deemed on top form enough to play the central character, John Tanner.
It's an important work amongst the huge volume of plays written by the Irish playwright and left wing philosopher George Bernard Shaw who was active in the first half of the last century. I'm a fan. The old boy not only had a lot to say but he was also a brilliant script technician as well. His characters, situations and comedy are often hugely entertaining and dramatic, even romantic. The musical MY FAIR LADY is an adaptation of his play PYGMALION for instance, in which not only are we hugely entertained but we're also invited to consider how voice and deportment define a young woman. There's always plenty of debate to consider amongst the post Edwardian comedy of manners. That puts some people off but I think it's why his plays are always worth a look.
This revival however is something special. Productions of MAN AND SUPERMAN don't come around very often and only in instances where there's the resources to rehearse and stage a long and technically demanding evening. And you need a star with the charisma to attract an audience to the dry old text and bring it to fresh life. The National Theatre have cast Ralph Fiennes and he grabs the opportunity with both hands creating a lumbering giant of a central figure, his body as restless as his mind.
He plays John Tanner, playboy and radical thinker, who is trying to resist the inevitability of his marriage to feisty Anne Whitefield. Rather like Beatrice and Benedict everyone can see they're perfect for one another, it's just a matter of time before the couple figure it out for themselves. And boy! Does John Tanner take his time? On a blow out motoring trip across the desert, in a protracted dream in which he assumes the character of 18th Century stud Don Juan and in a long, long heart to heart with Anne in a garden.
To be honest, although I've read it and seen a couple of productions I think I only understand a quarter of what he's going on about; basically I think he's exploring the concept of an ideal man, woman and marriage and dismissing some of the accepted morality. However it's delivered with such flourish by playwright and actor and you're swept along so agreeably that it feels like your getting it all even if most of its going in one ear and out the other.
It takes an exceptional director to stage all this and sell the complete package to the audience.
It takes an exceptional director to stage all this and sell the complete package to the audience. Fortunately Simon Godwin is such a director, injecting proceeding with enough radical touches to shake the dust off and defy expectations.
He begins the production with the bold move of parodying BBC Radio 4's intellectual chat and request show DESERT ISLAND DISCS. We hear a clip in which Tanner is a guest and introducing themes from Mozart's DON GIOVANNI (Opera's version of Don Juan) which deftly draws parallels between Shaw's hero and the Italian. It also leads us to understand that what follows will be a modern dress production uncluttered by the fancy costumes of the period in which it was written. We're being told that the director wants the play to be, not a museum piece, but as relevant and dangerous as it was when it premièred.
This kind of works. At times it gives events a contemporary zing and surprises you how easily the old words fit perfectly into our world but at other times the two don't quite mesh and these jarring notes highlight how old fashioned some of the philosophy is.
The best bits are scenes involving the rather camp figure of an ex-waiter from the Savoy who now leads a group of desert desperadoes. In the Don Juan dream he becomes the devil in a sequence where the great lover debates the merits of an eternity in heaven or hell, reaching surprising conclusions. It's a terrific show stealing performance from Tim McMullan which ought to win him lots of awards.
The handsome production is most definitely a collectible experience but be prepared to work hard.
Indira Varma is elegant, fiery and funny as prospective wife Anne, but I'd swallow more of Shaw's proto-feminist posturing if it wasn't centred around a goddess.
The handsome production is most definitely a collectible experience but be prepared to work hard.