Blockbuster British film Pride could become a stage musical
by Oliver Mitford on Thursday 9 October 2014, 9:40 am in Upcoming and New Shows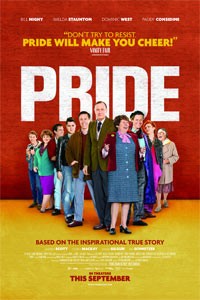 According to various sources including The Hollywood Reporter, smash-hit British film Pride could be coming to a theatre in London's West End as a stage musical adaptation.
Writer of the film Pride, Stephen Beresford confirmed at a star-studded screening of the film that talks are going ahead to turn the screenplay into a musical and the film's director Matthew Warchus is involved in the development. Warchus is no stranger to directing musicals; having helmed Matilda the Musical for the Royal Shakespeare Company, Ghost the Musical and The Lord of the Rings Musical.
Pride is based on a true story of a group of lesbian and gay activists who raised money to help families affected by the UK miners' strike in 1984, going on to become the Lesbian and Gays Support the Miners campaign. The National Union of Mineworkers were reluctant to accept the support from the group due to the worry of being openly associated with a gay group. However, the activists took matters into their own hands and personally took their donations to a small mining village in Wales and a long lasting alliance was forged.
The film stars Imelda Staunton, Andrew Scott, Dominic West and Bill Nighy, and has received widespread public and critical acclaim.
A quick glance at Matthew Warchus's CV and anyone can tell you that a musical under his leadership is in good hands, plus he is the brains behind the film! So keep your eyes peeled for more news of this exciting new musical.