The Phantom of the Opera extends booking to 25 April 2015
by Oliver Mitford on Monday 5 May 2014, 5:03 pm in West End News & Gossip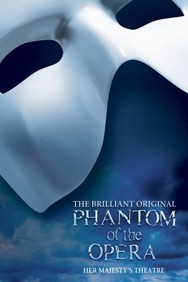 The Phantom of the Opera has extended its booking period at Her Majesty's Theatre. Tickets are now on sale up to 25 April 2015.
The Phantom of the Opera has been playing to sell-out audiences in London since 1986. It has been seen in 124 cities in 25 countries and played to over 100 million people. Worldwide, The Phantom of the Opera has made over £1.7bn, more than any film, with the highest-grossing film of all time – Avatar by director/writer James Cameron – making £1.6bn.
Andrew Lloyd Webber, now a world-famous theatre impresario, made his name writing the music for the haunting musical. His fellow collaborators, lyricist Charles Hart and director Harold Prince, went on to win numerous Tony Awards for their work on The Phantom Of the Opera, adding to the 70 other major awards received by the show, including three Olivier Awards. Their other accolades include the 2002 Oliver Audience Award for Most Popular Show, an Evening Standard Award, seven Tony Awards including Best Musical, seven Drama Desk Awards and three Outer Critic Circle Awards.
The musical has been translated into no fewer than 13 different languages, such as French, German, Japanese, Danish, Polish, Swedish, Castilian, Hungarian, Dutch, Korean, Portuguese and Mexican Spanish.
It is worth noting that The Phantom of the Opera's Christmas dates from 21 December to 3 January are not on sale yet.