Major cast change for The Phantom of the Opera!
by Oliver Mitford on Wednesday 11 September 2013, 10:10 am in Cast Changes and Announcements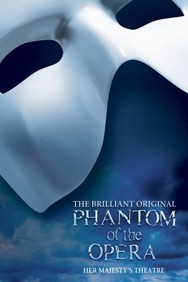 Major cast changes took place last week in the smash-hit Andrew Lloyd Webber musical The Phantom Of The Opera, which is currently playing at Her Majesty's Theatre in the West End.
Fresh from his success as Jean Valjean in Les Misérables, Geronimo Rauch will join the cast as 'The Phantom'. At the same time Broadway leading man Sean Palmer will take on the part of Raoul. They will be joined by Andy Hockley as Monsieur Firmin, Martin Ball as Monsieur André, Claire Moore as Carlotta, Jacinta Mulcahy as Madame Giry, Cat Lane as Meg Giry, and Olivia Brereton and Harriet Jones who will both play Christine at certain performances. Sofia Escobar will continue her staring roll as Christine.
Gerónimo Rauch is an Argentinian singer and actor who has recently finished playing Jean Valjean in the West End production of Les Misérables, having played the same role in the New 25th Anniversary production of Los Miserables in Barcelona. Gerónimo took part in the Buenos Aires version of TV talent show Popstars and was successfully chosen to become a founder member of the band Mambrú, whose debut album went Triple Platinum.
Broadway leading man Sean Palmer was most recently seen as Bobby in the Olivier Award-winning production of Crazy for You at the Open Air Theatre Regent's Park, and its subsequent West End transfer to the Novello Theatre. His Broadway credits include creating the role of Prince Eric in Disney's The Little Mermaid and the original cast of Fosse. Sean's film and television roles include Stanford Blatch's boyfriend Marcus in Sex and the City.
The Phantom of the Opera is booking until 26 April 2014 at Her Majesty's Theatre.