The Menier Chocolate Factory presents a revival of PACK OF LIES
by Best of Theatre Staff on Monday 30 July 2018, 11:28 am in Upcoming and New Shows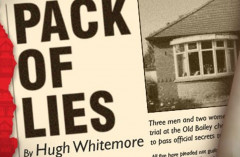 With Spamilton: An American Parody currently running at the venue, the Menier Chocolate Factory today announces a major revival of Hugh Whitemore's Pack of Lies directed by Hannah Chissick. The production opens on 1 October, with previews from 20 September, and runs until 17 November.
The Jacksons are a nice middle aged English couple. Their best friends are the Krogers, their Canadian neighbours. All is blissful in their world until a detective from Scotland Yard asks to use their house as an observation station to foil a Soviet spy ring operating in the area. They are really put to the test when the detective asks them to help set a trap. Should they betray their friends… Or their country?
Hugh Whitemore adapted Pack of Lies from his Act of Betrayal which was part of the Play for Today television series. Inspired by a real-life events, the story is based on Bill and Ruth Search and their teenage daughter Gay Search (who later became a television presenter and journalist), who find themselves at the centre of the investigations into the Portland Soviet spy ring. This new production is the first London revival since it premièred at the Lyric Theatre in 1983 with real life husband and wife Judi Dench and Michael Williams – Dench received an Olivier Award for her performance.
Hugh Whitemore (1936 – 2018) began his writing career in British television (contributing to The Wednesday Play, Armchair Theatre and Play for Today) and twice received Writers' Guild Awards. Film credits include The Return of the Soldier (an adaptation of the novel by Rebecca West), Mel Brooks' production of 84 Charing Cross Road, Utz, (an adaptation of Bruce Chatwin's novel) and Franco Zeffirelli's Jane Eyre. His other stage plays include Stevie, Breaking the Code, The Best of Friends, It's Ralph, A Letter of Resignation, Disposing of the Body, God Only Knows and a new version of Pirandello's As You Desire Me. These plays have been translated into many languages and produced throughout the world. His work has twice been named Best Single TV drama by the UK Broadcasting Press Guild, he has received the Scripter Award in Hollywood (for 84 Charing Cross Road), the Script Prize at the 1998 Monte Carlo Festival (for his adaptation of A Dance to the Music of Time) and a special Communications Award from the American Mathematical Society (for Breaking the Code). He was a Fellow of the Royal Society of Literature and an Honorary Fellow of King's College, London.
Hannah Chissick directs. Her most recent work includes Mother Courage and Her Children and the UK professional première of the musical Side Show (Southwark Playhouse), Down the Dock Road (Liverpool Royal Court), both for the NYMT - Brass (Hackney Empire) and Sunday in the Park With George (The Other Palace), Rags and Amour (Royal Academy of Music), Marry Me a Little (St James Studio) and Teechers (John Godber Theatre Company). She was Assistant Director to Matthew Warchus on the play Art in London and New York and was Associate Director on his acclaimed production of Boeing Boeing, directing casts in London, on Broadway and in Melbourne. In 2003, she became the youngest women to become an Artistic Director in the UK, when Harrogate Theatre appointed her at the age of 25. Other credits include the critically-acclaimed revival of Side by Side by Sondheim (The Venue, London), Abigail's Party (Northcott Theatre Exeter), Teechers (Haymarket Theatre, Basingstoke), a tour of Grumpy Old Women Live, the world première of Horrid Henry - Live (tour and West End), and the world premiere of Pushing Up Poppies (Theatre503).