One Man, Two Guvnors - Show of The Month
by Oliver Mitford on Friday 10 May 2013, 4:56 pm in Show of the Month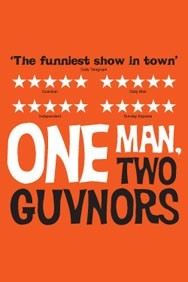 After sell-out seasons at the National Theatre and Adelphi Theatre, the critically acclaimed comic sensation One Man, Two Guvnors is now playing to packed houses at the Theatre Royal Haymarket. Comic actor and stand-up genius Rufus Hound takes the lead role of loveable rogue Francis Henshall. In Richard Bean's award-winning updated version of Carlo Goldoni's classic Italian farce The Servant of Two Masters, women with big hair, big chests and big ideas are everywhere. Set in the tacky glamour of 1960's Brighton, money, food and sex rule in this hilarious world of slapstick and mistaken identity.
Fired from his skiffle band, Francis Henshall becomes dogsbody to Roscoe Crabbe, a cockney gangster, now in Brighton to collect money from his fiancée's father. But Roscoe is really his sister Rachel posing as her own dead brother, who's been killed by her boyfriend Stanley Stubbers. Francis, always on the look-out to make some more cash, takes a second job with the one-and-only Stanley Stubbers, currently in hiding over the murder of Rachel's brother. To save his own skin, Francis must keep his two guvnors from ever meeting. A simple task for most…. But nothing is ever that simple for Francis Henshall.
Now well into its third cast change, One Man, Two Guvnors has quickly joined the ranks of other West End stalwarts, finding a perfect home at The Haymarket Theatre Royal. However, after the success of James Corden and then Owain Arthur in the lead role of Francis Henshall, it was always going to be difficult to strike lucky a third time.
Well, Rufus Hound just goes to show that it's got very little to do with luck and all to do with talent. The imp-like Hound manages to bring his stand-up comedy experience to great effect as he patters with the audience in some side-splittingly funny moments, the genius here is that he manages to blur the line between scripted and improvised sections of the play – a recipe for hilarity if ever I saw one.
The audience interaction, in Hound's hands, seems intuitive and natural; we surrender to him and enjoy it, rather than nervously waiting for him to slip up, as can happen with lesser comedians.
Nicholas Hytner's production sits well in the ornate surroundings of the Haymarket Theatre Royal and the wonderful acoustics help the laughter roll around the auditorium, building to a reverberating rumble.
The brilliance of the verbal gags is matched by the physical comedy in this production. Cal McCrystal's skilled sequences come thick and fast, climaxing in a scene where Francis is required to serve two dinners simultaneously. Hound springs from master to master like a tennis ball at the Wimbledon Finals and with the same ferocious energy.
The rest of the principal cast made up of Sam Alexander, Amy Cudden, Hugh Sachs, Kelly Price and Rhona Croker have all mastered the Commedia Dell'arte style, creating larger-than-life characters, whilst still retaining some believability and truthful. It is clear that this production requires a huge amount of energy and focus to keep the fast pace going throughout the two-and-a-half hours; not an easy thing to do eight shows a week. The entire cast are on-top of their game, as not one let the tempo drop. It is rare that a production with very little intellectual stimulation can transcend the mediocre, but the combination of tight script and skilled performers lifts One Man, Two Guvnors into the realms of entertainment bliss.
It was the most glorious experience to watch people's faces as they left the theatre, for even the most Botoxed of visages were sporting giant grins from ear to ear. Tickets to this show should be given out on prescription to anyone feeling down in the dumps, because it is a sure-fire way to escape reality for a short while and be swept up in a sea of joyous fun and hilarity. Well, they do say laughter is the best medicine.