THE MONGOL KHAN announces full creative team
by Best of Theatre Staff on Wednesday 7 June 2023, 10:15 am in West End News & Gossip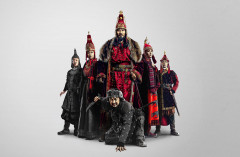 The producers of The Mongol Khan, Esunmunkh Myagmar, Amundra Amartuvshin, Bayra Bela (Amazon The Power, NETFLIX Marco Polo), Unurmaa Janchiv, Oliver King (The Ukrainian Ballet, Counting Sheep) are delighted to announce a team of world class UK creatives who are being brought on board especially for the London staging of the production, working alongside venerated Mongolian Director Hero Baatar.
Award-winning playwright, Timberlake Wertenbaker (Our Country's Good, Three Birds Alighting on a Field) will adapt a new translation, by prolific historian and expert in Mongolian history and culture, John Man, which will feature as sur-titles for the London performances.
Artistic Director and founder of Blind Summit, Nick Barnes is an Olivier and Tony Award-winning (Life of Pi, The Lorax) puppet designer who will design and create new puppets specifically for the UK production including a fire-breathing dragon. Multi-Award-winning Mike Roberston (Charlie & The Chocolate Factory, School of Rock, Billy Elliot) joins the team to redesign the lighting for the vast Coliseum stage; and David Gregory (King John, RSC; Boudica, Shakespeare's Globe; The Selfish Giant, West End) bring his broad range of experience to design the sound.
Hero Baatar said: 'The United Kingdom recognised our country's independence before any other western country and established diplomatic relations 60 years ago. The Mongolian theatre production playing in the West End for the first time is an historic event, and marks a new era in Mongolian drama. Cooperation with British artists is a crucial step in developing Mongolian theatre, which has a 90-year history, and it is a great honour for us to work with artists from Shakespeare's homeland.'
This lavish, large-scale production, with an ensemble of over 70 performers, has run for over 100 performances in Mongolia. Based on historical events, the show explores Mongolian culture and history through music, dance, dialogue and puppetry, with elaborate sets and costumes, all inspired by traditional nomadic culture and tradition.
Mongolia 2000 years ago. A brutal succession battle threatens the very stability of the Empire. As the great Khan struggles to maintain his supremacy, a plot hatches that will forever alter the balance of power.
This spectacular production celebrates 60 years of Anglo-Mongolian relations and cultural exchange. Bordered by China and Russia, Mongolia is one of the world's best kept secrets as a travel destination for adventure-fuelled people and lovers of luxury alike. Captivating, rugged expanses, stunningly beautiful landscapes, a vast unspoilt wilderness, extremely welcoming people and nomadic tribes with rich traditions, Mongolia has it all. The Mongol Khan serves as an introduction to this country and its history to give would-be travellers a taste of the culture and history.
The Mongol Khan has all the ingredients of a classic tragedy. Jealousy, mistaken identity, adultery, rivalry, sacrifice, succession and the struggle for power. The stability of an Empire is at stake and the story culminates in an epic battle. It's a multi-sensory feast, the like of which audiences will never have experienced before.
The Mongol Khan was written in 1998 by renowned Mongolian writer and poet Lkhagvasuren Bavuu and was revived in April 2022 at the Mongolian State Academic Theatre of Drama directed by highly-acclaimed Mongolian director Hero Baatar. The production has taken inspiration from historical events, archaeological findings, traditional nomadic dances, and the music of the ancient Hun culture of Central Asia from the Hunnu Empire period, and is produced by Hero Entertainment, Wild Yak Productions and Maktub Productions.