Merrily We Roll Along Review
by Oliver Mitford on Monday 29 April 2013, 2:07 pm in London Theatre Reviews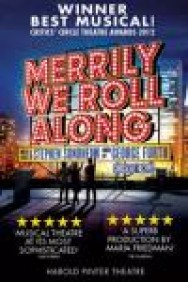 Ever wondered "How did I get here?" Stephen Sondheim's musical about musicals presses the rewind button and asks just that…
Although it famously flopped on Broadway in 1981, closing after just 16 performances, this Stephen Sondheim-George Furth musical has been given a new lease of life by director Maria Friedman – and what life! Friedman herself starred in the 1981 production and now she makes her professional directorial debut with this slick and moving production of Merrily We Roll Along.
Starting at the end, we are taken on the backwards journey of three friends as they attempt to navigate their turbulent lives. Opening in 1976 at the extravagant Hollywood home of composer-turned-film producer Frank Shepherd, where the pitfalls of success have left him friendless and alone, then ending in 1957 on the rooftop of an old apartment block in New York City, where the three friends meet for the first time and talk of the 'possibilities of life to come'.
This very human story of success, relationships and loyalty is made all the more poignant through the use of this reverse narrative. The audience is asked to join the dots as we come to understand not just how it happened but why. However, in the end, we are watching a world populated by the rich and successful and somehow when Frank stands in the midst of his multi-million-dollar home bemoaning his mess of a life, I can't help but feel that he needs to get some perspective. "You don't have it so bad" is what I found myself thinking. This small chink in Furth's otherwise flawless book can be easily overcome by any audience member once the dynamic thrills and spills of Sondheim's score takes hold. Friedman has drawn out every last textual and emotional detail in each number, focusing us on the characters' complex relationships rather than seeing how many tap numbers she can get in to the production – although, to her credit, she does manage to squeeze one in!
This superbly taut and assured production of Merrily We Roll Along is ripe with wit, whilst still capturing the undercurrent of sadness and loss that runs throughout. This is beautifully encapsulated in Jenna Russell's deeply touching portrayal of Mary, who on the surface is full of droll humor and joy, but deep within lies a broken woman, yearning for a love that will never materialise. In fact, the female principals steal the show in this production, with pitch-perfect performances from Frank's first and second wives Beth and Gussie, and mistress Meg (Clare Foster, Josefina Gabrielle and Zizi Strallen respectively). Gabrielle, in particular, effortlessly cuts across the stage as the Broadway diva that has clawed her way to the top, leaving disaster and heartbreak in her wake, while Clare Foster shows considerable ability as a cold, heartbroken ex-wife that transforms as we spool back in time to a naïve, bubbly college girl. It's not an easy task, but one she has risen to with much relish it seems.
Distinctively painted with time-specific, tone-shifting designs by Soutra Gilmour and character-led period choreography by Tim Jackson - they all merge beautifully to keep us from getting lost in the decade-jumping fragments. This, combined with Friedman's mastery of pace and rhythm, keeps the show racing along with seamless transitions that gather momentum to the end.
Filled with dreams that are realised and others that are not, Merrily We Roll Along lets us catch a glimpse of our shared journey from youthful hopefulness to a wiser, more considered existence. The cast and creative team have reclaimed this 'flop' and turned it into a hit – next stop Broadway?