Reviews of The Marriage of Figaro and Our Town
by Phil Willmott on Thursday 23 October 2014, 7:29 am in London Theatre Reviews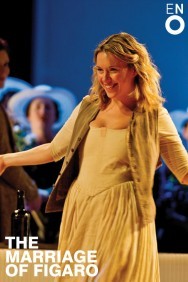 Any list of the top 10 most popular and often performed operas around the world would include 3 by Mozart. Don Giovanni, Cosi fan tutte and The Marriage of Figaro, a trilogy of masterpieces known as the Da Ponte operas as all were written to librettos by the Venetian poet Lorenzo Da Ponte.
He based Figaro on a controversial play by Beaumarchais that had scandalised audiences just a few years before Mozart decided to turn it into an opera. With its depiction of servants getting the upper hand over their masters and demanding as much right to life, liberty and the pursuit of happiness as the Lords and Ladies some saw it as a call for Revolution. The Bastille was stormed not long after.
The action takes place on the day the manservant Figaro and the maid Susanna are due to get married. They are in service to the Count and Countess Almaviva. The Count, a notorious womaniser, has been trying to seduce Susanna, claiming it is his right as her Lord. Figaro is understandably upset at this and hatches a complex plan to humiliate and humble his Master that includes lots of comic business involving disguises, cross-dressing and hiding in wardrobes. There is also a more serious side to the opera that explores the nature of love, relationships, and power and it includes some of Mozart's most sublime arias.
Fiona Shaw's production is performed in a series of maze-like buildings and gardens which spin around as swiftly and often as the music. Period costumes and more modern bits and pieces create a timeless setting that neither helps or particularly hinders the telling of the story, Jeremy Sams' brilliant translation of the libretto is clear and often very funny.
Best of all, and this can't always be said of evenings at ENO, the singing is very good.
Sarah-Jane Brandon as the Countess had a nervy start but developed beautifully as the opera progressed and her portrayal of the wronged woman was very moving. Benedict Nelson's Count was a bit characterless but his voice is strong and attractive as is David Stout's Figaro and he commands the stage when the women let him. Mary Bevan's Susanna was the highlight of the evening. She has a fabulous voice, bright, flexible and rich, perfect for Mozart and a very attractive personality, a real star in the making and was presented with the Critic's Circle award for 'exceptional young talent' after her many ovations at the end.
Across town and up a bit, in Islington, bosses at the Almeida Theatre have invited the much admired New York director, David Cromer to revive his celebrated off-Broadway production of OUR TOWN.
Written in 1938 it's surprising how radical Thorton Wlider's portrait of small town life, marriage and death still feels. It's presented here, as the writer intended, without scenery, props, or fancy lights and costumes and doesn't stint from depicting the every-day and tediousness of existence.
I was interested to read some critics describe this life style as idyllic, for me the relentless grind of home cooked meals, church choirs and the small-minded seems like hell on earth.
Anyway it's all beautifully conveyed by a large cast in a bare church hall setting with only words (delivered with British accents to emphasise the universality of events) to conjure up this distant time and place. Laura Elsworthy and David Walmsley are particularly impressive as they age from awkward teenagers to a long-married couple. Anna Frankolini as the groom's mum turns in a stoic and subtly nuanced performance that encapsulates the wife and mother's lot in life and equally movingly, after death.
The director takes the role of the narrator himself, as Thornton Wilder once did, with wit and warmth and there's a lovely visual twist to proceedings at the end.
I'm lucky enough to spend most of my working life as a director watching actors bring texts to life in bare rehearsal rooms so this approach to presentation holds little magic for me however the audience during the two intervals seemed genuinely charmed and delighted to see a play presented in this way.
It's well worth journeying north of the West End for this one.