Tracie Bennett to star as Mame in Hope Mill Theatre Manchester 2019 Season
by Best of Theatre Staff on Friday 7 December 2018, 11:47 am in Upcoming and New Shows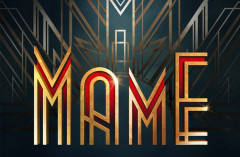 Katy Lipson of Aria Entertainment and Joseph Houston and William Whelton of Hope Mill Theatre, Manchester are delighted to announce Hope Aria Productions' 2019 Season. The Season will open on 2 March with the UK premiere of a new version of the Stephen Schwartz musical RAGS. From 27 September, Tracie Bennett will star in the title role in Jerry Herman's much loved musical MAME, and the season will be completed by a new musical, THE ASTONISHING TIMES OF TIMOTHY CRATCHIT, from 22 November.
RAGS is a heart-warming and powerful musical with book by Joseph Stein (Fiddler on the Roof), lyrics by Stephen Schwartz (Wicked) and music by Charles Strouse (Annie), which tells the story of Russian immigrant Rebecca, who, with her son David, travels to America in search of a better life. Rebecca must decide what matters more to her - staying true to her roots or adopting a new cultural identity in an attempt to 'fit in'. This will be the UK premiere of this new version of the musical and will be directed by Bronagh Lagan (Little Women, Putting It Together, Promises Promises). RAGS is presented by arrangement with MTI Europe and is produced in association with Matthew Hopton of Knockhardy Productions.
Stephen Schwartz said, "I'm delighted that Katy Lipson and Hope Mill Theatre will be presenting our newly revised version of Rags in its first production. The show feels more timely than it ever has been, and my co-authors and I are enthusiastic about all the improvements we have made and excited to be sharing the show with the Manchester audience."
MAME, a classic 1960's musical, with book by Jerome Lawrence and Robert E. Lee and music and lyrics by Jerry Herman, has not been seen in the UK since the original West End production in 1969 starring Ginger Rogers. Set in New York City and spanning the Great Depression and World War II, the musical focuses on eccentric bohemian Mame Dennis, played in this new revival by two-time Olivier Award winner, six-time Olivier Award nominee and Tony Award nominee, Tracie Bennett (Follies, Mrs Henderson Presents, End Of The Rainbow, La Cage Aux Folles, Hairspray, Les Misérables, High Society, She Loves Me in London's West End, and, on television, Making Out, Joking Apart, Next of Kin, Coronation Street, Scott & Bailey and a regular role in the new ITV drama The Bay).
The madcap life of Mame Dennis and her intellectual, arty clique is disrupted when her deceased brother's 10 year-old son Patrick is entrusted to her care. Rather than bow to convention, Mame introduces the boy to her free-wheeling lifestyle, instilling in him her favourite credo, "Life is a banquet, and most poor sons-of-bitches are starving to death." Mame loses her fortune in the Wall Street Crash of 1929 and tries her hand at a number of jobs with comically disastrous results, but perseveres with good humour and an irrepressible sense of style, before marrying the Southern aristocrat and plantation owner, Beuregard Jackson Pickett Burnside. Director Nick Winston (Director and Choreographer of The Royal Variety Performance at The London Palladium, hosted by Miranda Hart (ITV); Choreographer for Sondheim at 80 starring Judi Dench at The Royal Albert Hall (BBC); Shakespeare Live! From the RSC, which received a BAFTA nomination for Live Entertainment (BBC); Waiting For Godot at The Lincoln Centre, New York) will steer the audience through the unusual and rollercoaster life of Mame and her friends and family. MAME is presented by arrangement with Tams Witmark.
THE ASTONISHING TIMES OF TIMOTHY CRATCHIT is a new musical with book by Allan Knee (the writer of Hope Aria's 2017 hit musical, Little Women), and music and lyrics by newcomer Andre Catrini. It tells the tale of a young man who sets out to find his place in an expanding and volatile world. Inspired by the characters of Charles Dickens's A Christmas Carol, the story follows the plight of young Tim from the home of his benefactor, Ebenezer Scrooge, to the theatrical madness of the great comic, Giuseppe Grimaldi. The new musical will be directed by Jonathan O'Boyle (Hair, This House, Pippin, Rain Man, Aspects of Love) and produced in association with Jana Robbins, Craig Haffner and Sherry Wright.
Katy Lipson said, "We are extremely excited to enter our third year as a producing venue with three incredible musicals, which we hope will cement us as a leading regional theatre in the UK landscape. It's a huge honour to present the newly developed RAGS, working hand in hand with Stephen Schwartz, as well as welcoming back the works of Allan Knee to the Hope Mill and to have Tracie Bennett performing in our venue is a huge privilege."
Hope Aria Productions was created in 2016, when Joseph Houston and William Whelton of Hope Mill Theatre joined forces with Katy Lipson of Aria Entertainment to spearhead the venue as a home for new musicals, musical premieres and musical revivals. Katy is now Producing Artistic Director for all in-house musicals. Hope Aria productions since 2016 include Parade, Hair, the European premiere of Yank!, Pippin, the European premiere of Little Women, the world premiere of Toyboy Diaries, Spring Awakening, Andrew Lloyd Webber's Aspects of Love, new British chamber musical The Return of the Soldier, and Stephen Sondheim's Putting It Together. London transfers include Yank! at Charing Cross Theatre, Pippin at Southwark Playhouse and Hair at The Vaults, which won the WhatsOnStage Award for Best Off West End Production. 2019 will see a major UK Tour of Hair and the London transfer of Aspects of Love to Southwark Playhouse. In 2018, Hope Mill Theatre won The Stage Award for Fringe Theatre of the Year.