Could Tom Hanks be coming to the West End in Lucky Guy?
by Oliver Mitford on Friday 17 January 2014, 3:55 pm in West End News & Gossip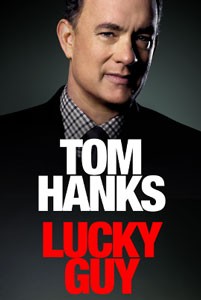 Rumours are flying that the Broadway mega-hit Lucky Guy starring Academy Award winner Tom Hanks might be on its way to the West End. It is reported that the acclaimed play by Nora Ephron might arrive in London's Theatreland at some point in 2014 with Hanks reprising his role as the late Pulitzer Prize-winning reporter Mike McAlary; however, the shows producers have not confirmed the news. For the present time it is all speculation.
Lucky Guy is a new play about the scandal- and graffiti-ridden New York of the 1980s, as told through the story of the charismatic and controversial tabloid columnist Mike McAlary. From his sensational reporting of New York's major police corruption to the libel suit that nearly ended his career, the play dramatizes the story of McAlary's meteoric rise, fall and rise again, ending with his coverage of the Abner Louima case for which he won the Pulitzer Prize, shortly before his untimely death on Christmas Day, 1998. The show ends its extended Broadway run at the Broadhurst Theatre on 3 July 2014.
Leading man Tom Hanks is best known for such films as Sleepless in Seattle, Philadelphia, Forrest Gump, Cast Away, Saving Private Ryan, Catch Me If You Can, and Cloud Atlas.
Playwright Nora Ephron is best know for her acclaimed Hollywood screenplays such as Sleepless in Seattle, When Harry Met Sally and Heartburn. Ephron died at the age of 71 on June 26, 2012. She had been at work on the new play about McAlary, who was a columnist for the New York Post and the Daily News. Ephron worked for the New York Post early in her career and wrote about the experience in her final book, 'I Remember Nothing.' Lucky Guy is not the first play Ephron has had produced on Broadway. In 2005, her play-with-music called Imaginary Friends, about writers Lillian Hellman and Mary McCarthy enjoyed a short run.
Lucky Guy received six Tony Award nominations, including Best Play, Best Actor (Tom Hanks), Best Featured Actor (Courtney B. Vance), Best Direction (George Wolfe), Best Scenic Design (David Rockwell) and Best Lighting Design (Jules Fisher & Peggy Eisenhauer). Tony Awards were won for Best Featured Actor and Best Lighting Design.
Keep an ear out for more news soon on Lucky Guy's potential arrival in London!