LA BOHEME & STRANGERS IN BETWEEN at Trafalgar Studios
by Best of Theatre Staff on Tuesday 19 September 2017, 12:10 pm in Upcoming and New Shows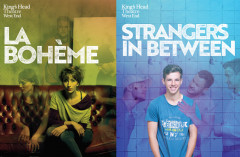 The King's Head Theatre, following on from the exciting news that the company will be moving in 2018 to a purpose built, permanent space in the heart of Islington Square, is delighted to announce that they and Joe C Brown will present the West End transfers of their sell-out productions of Puccini's La bohème and Tommy Murphy's Strangers in Between. Adam Spreadbury-Maher, Artistic Director of the King's Head Theatre, will direct both productions, which will run at Trafalgar Studios 2 from 6 December 2017 to 6 January 2018 and from 10 January to 3 February 2018 respectively. La bohème will have a national press night on 11 December 2017 and Strangers in Between on 12 January 2018.
Adam Spreadbury-Maher and Becca Marriott's reinterpretation of Puccini's classic La bohème is set in present-day East London and delves into the lives and loves of Mimi, Musetta, Ralph and Mark. The production lays bare the damaging effects of co-dependent relationships against a backdrop of spiralling rents and social media. The cast will include Becca Marriott as Mimi, Matthew Kimble and Roger Paterson sharing the role of Ralph, Matthew Palmer and Thomas Isherwood sharing the role of Mark, Honey Rouhani as Musetta, and Lizzie Holmes playing both Mimi and Musetta.
Tommy Murphy's Strangers in Between tells the story of Shane, a timid 16 year-old who has fled his rural hometown for the glitz and glamour of Sydney's King's Cross, in order to escape his troubled past and attempt to establish an urban family. This coming-of-age, dark comedy looks at the importance of friendship and the highs and lows of growing up gay in modern Australia. The cast includes Roly Botha as Shane, Dan Hunter as Will and Stephen Connery-Brown as Peter.
The King's Head Theatre's Artistic Director, Adam Spreadbury-Maher, founded the Cock Tavern Theatre, OperaUpClose and the Hope Theatre before joining the King's Head Theatre as Artistic Director in 2010. In 2009, Adam produced La bohème at the Cock Tavern and Soho Theatres, and won the Olivier Award for Best Opera. Since becoming Artistic Director of the King's Head Theatre, Adam's directing highlights include Trainspotting and the recent 35th-anniversary production of Kevin Elyot's Coming Clean. He is about to open a brand new version of Puccini's Tosca.
Tommy Murphy is an Australian playwright best known for his stage and screen adaptation of Timothy Conigrave's memoir Holding the Man, which won numerous awards including Best Play at the New South Wales Premier's Literary Awards, an award he also won for Strangers in Between, making him the only playwright to win this award in successive years.
Becky-Dee Trevenen is designing both La bohème and Strangers in Between. Lighting for La bohème is by Nic Farman. Lighting for Strangers in Between is by Richard Williamson and sound by Jon McLeod.
The King's Head Theatre in the West End season is presented by the King's Head Theatre and Joe C Brown, in association with In Your Face Theatre and Making Productions.