Kiln theatre announces Inua Ellams' THE HALF GOD OF RAINFALL
by Best of Theatre Staff on Wednesday 5 September 2018, 1:27 pm in Upcoming and New Shows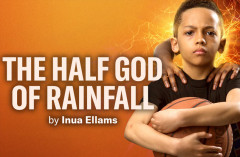 As her production of the world première of Alexis Zegerman's Holy Sh!t opens the inaugural season in the newly refurbished Kiln Theatre, Artistic Director Indhu Rubasingham today announces that Inua Ellams' The Half God of Rainfall joins the line-up for the opening season. Presented in a co-production with Fuel and Birmingham Repertory Theatre, The Half God of Rainfall opens on 30 April 2019, with previews from 26 April 2019, and runs until 17 May 2019.
The Half God of Rainfall will open for priority booking alongside the UK première of Florian Zeller's The Son translated by Christopher Hampton and the world première of Samuel Adamson's Wife on 24 September, ahead of public booking on 8 October.
'For thousands of years, Gods enjoyed full dominion over the lives of men. As prayers dwindled, Gods felt their power cut'
Modupe, cursed with extraordinary beauty, draws the unwanted attention of the Greek and Yoruba gods. Her son Demi, half Nigerian-mortal, half Olympian child, is bestowed with powers; one of them manifests in the game of basketball. When he unknowingly sparks Zeus' wrath, Modupe tries to protect him from the capricious whims of the gods.
Inua Ellams writes this contemporary saga that weaves poetry with storytelling in a majestic, chaotic journey across mythologies that transports us from a tiny village in Southern Nigeria to the further reaches of our galaxy and beyond.
Inua Ellams is an internationally touring poet, playwright, performer, graphic artist and designer. He is an ambassador for the Ministry of Stories and has published four books of poetry: Candy Coated Unicorns and Converse All Stars, Thirteen Fairy Negro Tales, The Wire-Headed Heathen and #Afterhours. His first play The 14th Tale was awarded a Fringe First at the Edinburgh International Theatre Festival and his most recent play Barber Shop Chronicles recently completed two sell-out run at the National Theatre. Last year, he toured extensively with his play An Evening with an Immigrant. He lives and works from London, where he founded the Midnight Run, a nocturnal urban excursion.
Fuel produces an adventurous, playful and significant programme of work - live, digital, and across art forms – for a large and representative audience across the UK and beyond. They collaborate with outstanding artists with fresh perspectives and approaches who seek to explore our place in the world, expose our fears, understand our hopes for the future, create experiences which change us and in turn empower us to make change in the world around us. Led by Kate McGrath, Fuel is supported by Arts Council England as a National Portfolio Organisation, the Esmee Fairbairn Foundation, and Wellcome Trust through Sustaining Excellence. Kate McGrath, Director of Fuel, and Inua Ellams met in 2008, after Kate saw what became Inua's first theatre show, The 14th Tale, at BAC. Fuel helped Inua develop his debutplayand produced it, premiering it at the Edinburgh Festival, winning a Fringe First, touring it in the UK and internationally and presenting it at the National Theatre. Since that first meeting, Fuel has worked closely with Inua, producing Untitled, Knight Watch, Long Song Goodbye, Black T-shirt Collection, The Spalding Suite, An Evening with an Immigrant, Barber Shop Chronicles and now The Half-God of Rainfall.
Birmingham Repertory Theatre Company is one of Britain's leading producing theatre companies. Its mission is to inspire a lifelong love of theatre in the diverse communities of Birmingham and beyond. As well as presenting over 60 productions on its three stages every year, the theatre tours its productions nationally and internationally, showcasing theatre made in Birmingham.
The commissioning and production of new work lies at the core of The REP's programme and over the last 15 years, the company has produced more than 130 new plays. The theatre's outreach programme engages with over 7000 young people and adults through its learning and participation programme, equating to 30,000 individual educational sessions. The REP is also committed to nurturing new talent through its youth theatre groups and training for up and coming writers, directors and artists through its REP Foundry initiative. The REP's Furnace programme unites established theatre practitioners with Birmingham's communities to make high quality, unique theatre.
Many of The REP's productions go on to have lives beyond Birmingham. Recent tours and transfers include Brief Encounter, Nativity! The Musical, What Shadows, LOVE, The Winslow Boy, The Government Inspector, Of Mice and Men, Anita and Me, Penguins and The King's Speech. The theatre's long-running production of The Snowman celebrates its 25th anniversary this year as well as its 21st consecutive season at London's Peacock Theatre.