Kerry Ellis flies back into Wicked
by Oliver Mitford on Tuesday 29 July 2014, 12:11 pm in Cast Changes and Announcements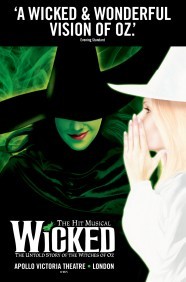 The original British Elphaba, Kerry Ellis is set to return to the award-winning musical Wicked for a short period of just 12 weeks, from 4 August 2014.
Ellis will be taking over the reigns from the current Elphaba, Willemijn Verkaik, who departed from the production on the 19 July 2014, due to a back condition.
Kerry Ellis was the first British actress to play the iconic role of Elphaba, the Wicked Witch of the West. She took over the role from Broadway star Idina Menzel back in January 2007 and has since gone on to play the role on Broadway herself. Ellis is best known for originating the part of Meat in We Will Rock You at the Dominion Theatre. She has also appeared as Nancy in Oliver! At the Theatre Royal, Drury Lane, Ellen in Miss Saigon for the UK Tour and Fantine in Les Miserables at the Queens Theatre.
On the announcement of her return to Wicked Ellis said, 'It is an absolute thrill for me to be returning to this amazing show and the incredible role of Elphaba that is so very special to me. I can't wait to be green again and join this fantastic cast'.
When Willemijn Verkaik played her final performance as Elphaba on 19 July, she received a standing ovation from the entire auditorium of the Apollo Victoria Theatre, and the Dutch actress has promised a return to the production in the near future.
Wicked is now the 10th longest running show in the West End. Catch Kerry Ellis at the Apollo Victoria Theatre from 4 August 2014.