Hair – The Musical goes on tour
by Best of Theatre Staff on Tuesday 2 October 2018, 12:41 pm in Theatre News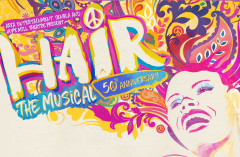 Following the critically-acclaimed 50th anniversary production of Hair – The Musical at Hope Mill Theatre and sell-out transfer to The Vaults, London, the celebrated production will now embark on a nationwide tour.
This award-winning production (2018 WhatsOnStage Award – Best Off-West End Production) will open at the New Wimbledon Theatre on 22 March 2019, with national press night on 28 March, before visiting Cheltenham, Manchester, Cardiff, Plymouth, Birmingham, Sunderland, Dartford, Liverpool, Portsmouth, Edinburgh, Oxford, Sheffield, Brighton and Milton Keynes, with further dates to be announced in due course.
Welcome to the 'Age of Aquarius'. It's 1967 and HAIR's hippie 'tribe' youngsters in the East Village of New York are yearning to change the world, questioning authority and the American flag. Wild, colourful, sexually liberated and free, they are united in protest and song, under the shadow of the Vietnam War.
Hair, which is adored for its Grammy award-winning score featuring iconic hits such as 'Aquarius', 'Let the Sun Shine In', 'I Got Life' and 'Good Morning Starshine' is written by Gerome Ragni (book and lyrics), James Rado (book and lyrics) and Galt MacDermot (music).
The 50th anniversary productionis directed by Jonathan O'Boyle (Pippin, Rain Man, Aspects Of Love), who is reunited with the brilliant creative team from Hope Mill Theatre: Gareth Bretherton (Musical Director), William Whelton (Choreographer), Maeve Black (Designer), Ben M Rogers (Lighting Designer), Calum Robinson (Sound Designer) and producers Katy Lipson for Aria Entertainment, Joseph Houston & William Whelton for Hope Mill Theatre, Ollie Rosenblatt for Senbla, and associate producer Guy James. The production will be cast by the previous BBC Head of Casting Jane Deitch, and will be announced in due course.
Jonathan O'Boyle's (Director) credits include: A Guide for the Homesick (Trafalgar Studios); Rain Man (UK Tour); Aspects of Love (Hope Mill Theatre); James Graham's This House (National Theatre, Headlong and UK Tour); Rasheeda Speaking (Trafalgar Studios); Pippin (Southwark Playhouse and Hope Mill Theatre); Dear Brutus (Southwark Playhouse); Hair (The Vaults and Hope Mill Theatre); Four Play (Theatre503); Sense of an Ending and Water Under the Board (Theatre503); The Surplus and All The Ways To Say Goodbye (Young Vic); The Verb, To Love and Made In Britain (Old Red Lion Theatre); Bash Latterday Plays (Trafalgar Studios) and King Lear and Broken Glass (Central School of Speech and Drama).
His associate Director credits include: An American In Paris (Dominion Theatre); This House (Chichester Festival Theatre and Garrick Theatre); The Judas Kiss (Brooklyn Academy of Music, New York and Ed Mirvish Theatre, Toronto); Mack and Mabel (Chichester Festival Theatre and UK Tour); Amadeus (Chichester Festival Theatre); Bull (Sheffield Crucible, Young Vic and New York); This Is My Family (Sheffield Theatres and UK Tour); The Scottsboro Boys (Young Vic); My Fair Lady (Sheffield Crucible); The Village Bike (Sheffield Crucible) and Manon (Royal Opera House).
Katy Lipson – Aria Entertainment (Producer) – Aria Entertainment was founded in 2012 by Katy Lipson.
In 2017, Katy was awarded the Best Producer award by the Off-West End Awards and is a recipient of the Stage One Bursary and Start Up Award. She made The Stage 100 this year with Joe Houston and William Whelton for their work at Hope Mill Theatre.
Katy has recently finished two hugely successful runs as lead producer on the UK Tour of The Addams Family and the 50th Anniversary production of HAIR at the London Vaults, which she originally co-produced with Hope Mill Theatre in 2016, where she is Resident Producer and co-artistic director for inhouse productions. HAIR won the award for Best Off-West End Production at the 2018 Whatsonstage Awards. She has also recently produced the London transfer of new musical The Toxic Avenger at The Arts Theatre, West End following a run at The Edinburgh Festival's Pleasance Theatre.
Other recent productions include:Unexpected Joy (Southwark Playhouse and York Theatre, Off-Broadway); It's Only Life (Union Theatre); The Return of the Soldier, Aspects of Love, Spring Awakening, Little Women, Pippin, The ToyBoy Diaries, Yank!, Parade and Hair (Hope Mill Theatre); the London transfers of Pippin (Southwark Playhouse) and Yank! (Charing Cross Theatre); tick, tick...BOOM! (Park Theatre); Promises, Promises and The Toxic Avenger (Southwark Playhouse); Vanities The Musical (Trafalgar Studios); See What I Wanna See and The Return Of The Soldier (Jermyn Street Theatre); Bar Mitzvah Boy (Upstairs at the Gatehouse); The Adventures of Pinocchio, Lizzie and The Who's Tommy (Greenwich Theatre); The House of Mirrors & Hearts, Supported By Grant For The Arts (Arcola Theatre) and Marry Me A Little, Jerry's Girls and Forever Plaid (St. James Studio).
Other current projects include:Putting It Together (Hope Mill Theatre).
Joseph Houston & William Whelton – Hope Mill Theatre (Producers)– The Award-winning Hope Mill Theatre was the dream of couple Joseph Houston and William Whelton, who after a career in Musical Theatre and living in London, became inspired by the highly regarded Off West End theatres and the high-quality work they were creating. With the growing theatre industry blossoming in Manchester and no medium sized venues producing Musicals, they set up and established the independent venue in November 2015. The venue has firmly placed itself on the northern map for its ambitious in-house musical productions, which include Parade, Hair (which won Best Off-West End Production at this year's WhatsOnStage Awards), the UK Premiere of YANK! (which had a successful seven week run at the Charing Cross Theatre, London), the European Premiere of Little Women, hit-rock musical Spring Awakening, Pippin (Southwark Playhouse, London) and most recently an acclaimed revival of Andrew Lloyd Webber's Aspects of Love.
In October 2016, Joseph and William were awarded the Hospital Club Award for contribution to Theatre and Performance. Last year they picked up a Special Achievement Award at the Manchester Theatre Awards. The venue was nominated for The Peter Brook Empty Space Award, won a Northern Soul Award for small theatre of the year and was nominated for Fringe Theatre of the Year 2016 and 2017, before winning the prestigious Stage's Fringe Theatre of the Year award 2018.
Most recently the venue was featured in the Evening Standards top 10 must visit regional venues. Joseph and William joined forces with Katy Lipson of Aria Entertainment to spearhead the venue as a regional home for new musicals and musical revivals and their successful collaboration got them named on The Stage 100 list 2017. William Whelton is a recipient of the Stage One Young Producers Bursary for emerging producers. Hope Mill Theatre hosts many emerging Manchester theatre companies, touring productions and offers a varied programme for its audiences.
Ollie Rosenblatt – Senbla (Producer) – Ollie Rosenblatt founded Senbla in 2011 after running Jazz FM's live division.
Ollie is a new breed of promoter and producer taking both a traditional approach mixed with a forward-thinking aptitude centered around unlocking and adding value from great songs, catalogues and artists. Demonstrated by the hugely successful A Life In Song songwriter series at the o2 Arena and London's Royal Festival Hall, which he created, produced and promoted for Quincy Jones, Burt Bacharach, Tim Rice and Don Black. They were filmed and broadcast on BBC 2 and 4 and BBC Radio 2.
Senbla produces and promotes large-scale tours for artists across the UK working with artists such as Quincy Jones, Burt Bacharach, Soft Cell, Ennio Morricone, Tony Bennett, Nigel Kennedy, Itzhak Perlman, Marc Almond, Joss Stone, Sophie Ellis Bextor, Jason Robert Brown, Audra McDonald. Senbla was the first company to tour film with live orchestra concerts throughout the UK and works with the largest entertainment brands in the world in this genre. From the Harry Potter and Star Wars Franchises to Disney brands Beauty and The Beast, The Jungle Book, Pixar as well as major studio films such as Love Actually, The Godfather, Titanic, Paddington and many others.
Senbla has also produced a number of concept shows such as The Golden Age of Dance and Broadway In Concert, as well as musicals in concert How To Succeed In Business Without Really Trying; Peter Pan and Of Thee I Sing. Senbla co-produced the Burt Bacharach musical 'Promises, Promises' and the London transfer of the 50th anniversary production of 'Hair'.