GRIEF IS THE THING WITH FEATHERS opens at the Barbican ahead of performances in New York
by Best of Theatre Staff on Thursday 11 October 2018, 9:19 am in Upcoming and New Shows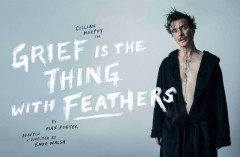 Wayward Productions, led by Judith Dimant, today announce that their inaugural production of Enda Walsh's adaptation of Max Porter's award-winning novel Grief is the Thing with Feathers. Walsh also directs, reuniting him with Cillian Murphy, following the huge success of their past collaborations: Disco Pigs, Ballyturk and Misterman.
Grief is the Thing with Feathers is a moving story of a widower and his young sons which becomes a profound meditation on love, loss and living. The production opens on 28 March, with previews from 25 March, and runs until 13 April, ahead of transferring to St Ann's Warehouse in New York.
Once upon a time there was a crow who wanted nothing more than to care for a pair of motherless children...
In a London flat, two young boys face the unbearable sadness of their mother's sudden death. Their father imagines a future of well-meaning visitors and emptiness. In this moment of despair they are visited by Crow - antagonist, trickster, healer, babysitter. This sentimental bird is drawn to the grieving family and threatens to stay until they no longer need him.
Judith Dimant said today, "It's a real privilege to have worked with Enda and Cillian on Max Porter's beautiful book. I had no idea how it would come to life - but it most certainly has. And it's a dream that it should mark the start of my new company, Wayward Productions."
Max Porter added, "Working with Enda, Cillian and the whole team on the adaptation of Grief was one of the most revelatory and rewarding experiences of my life. I think they've made a genuinely extraordinary piece of theatre, something radical and unforgettable. For it to be coming 'home' to London, where the book is set, and where the book was written, means a lot to me. The Barbican theatre is the perfect space for Crow. I couldn't be more excited."
Enda Walsh is a multi-award-winning Irish playwright and director. His work has been translated into over 20 languages and has been performed internationally since 1998.
His recent work includes - the operaThe Second Violinist for Landmark Productions and Wide Open Opera (Galway International Arts Festival, Dublin Theatre Festival, 2017 and Barbican) written with Donnacha Dennehy; The Same, produced by Corcadorca at the Old Cork Prison; Arlington, produced by Landmark Productions and Galway International Arts Festival (Dublin, New York 2017, Galway 2016); Lazarus with David Bowie, at the King's Cross Theatre in London and New York Theatre Workshop; 4 installations - Room 303, A Girl's Bedroom, Kitchen, Bathroom all shown at the Galway International Arts Festival (2014-2017); the opera The Last Hotel for Landmark Productions and Wide Open Opera (Edinburgh International Festival, Dublin Theatre Festival, Royal Opera House, London, St Ann's Warehouse, New York, Les Théâtres de la Ville, Luxembourg, 2015-2017) written with Donnacha Dennehy, Ballyturk, produced by Landmark Productions and Galway International Arts Festival (Galway, Dublin, Cork and London, 2014); Room 303, shown at the Galway International Arts Festival (2014); Misterman, produced by Landmark Productions and Galway International Arts Festival in Ireland, London and New York (2011-2012); and several plays for Druid Theatre Company, including Penelope, which has been presented in Ireland, America and London, from 2010–2011, The New Electric Ballroom, which played Ireland, Australia, Edinburgh, London, New York and LA from 2008-2009, and The Walworth Farce, which played Ireland, Edinburgh, London and New York, as well as an American and Australian tour, from 2007-2010. He won a Tony Award for writing the book for the musical Once in 2012, which played for three years on Broadway and two years in the West End as well as the Olympia Theatre in 2015, 2016 & 2017.
His other plays include Delirium (Theatre O/Barbican), which played Dublin and a British tour in 2008; Chatroom (National Theatre), which played at the NT and on tour in Britain and Asia (2006-2007); and The Small Things (Paines Plough), which played London and Galway Arts Festival (2005). His early plays include Bedbound (Dublin Theatre Festival) and Disco Pigs (Corcadorca).
His film work includes Disco Pigs (Temple Films/Renaissance) and Hunger (Blast/FILM4).
In 2014 he received an honorary doctorate from NUI Galway.
Cillian Murphy first made his mark on stage and established a longstanding relationship with writer Enda Walsh with an explosive performance in Disco Pigs. Following critically acclaimed, sold out runs in Ireland, their most recent collaboration, Ballyturk, ran at the National Theatre in London. Murphy also starred in Walsh's stunning monologue Misterman (2012 Drama Desk Award, The Irish Times Irish Theatre Award) and Kristen Sheridan's filmed adaptation of Disco Pigs.
In 2006, Murphy made his West End debut at the New Ambassador Theatre in John Kolvenbach's Love Song, directed by John Crowley. His stage collaborations with Tony Award-winning director Garry Hynes include The Country Boy, Juno and the Paycock, and The Playboy of the Western World at the Gaiety Theatre in Dublin. Murphy also starred as Konstantin in the Edinburgh Fest production of The Seagull directed by Peter Stein, as Adam in Neil LaBute's The Shape of Things at the Gate Theatre in Dublin and as Claudio in Much Ado About Nothing at Kilkenny Castle.
On screen, Murphy most recently co-starred in Christopher Nolan's groundbreaking World War II epic Dunkirk, Sally Potter's The Party and Ben Wheatley's Free Fire. His upcoming projects include Luc Besson's Anna and Mark O'Rowe's The Delinquent Season.
Murphy first garnered international attention for his performance in Danny Boyle's 28 Days Later. In 2005, he made an indelible impression as Dr. Jonathan Crane/The Scarecrow in Christopher Nolan's Batman Begins, for which he received a London Film Critics Circle Award nomination. He reprised the role in Nolan's The Dark Knight and The Dark Knight Rises and later reunited with the director for the critically acclaimed blockbuster Inception. In 2006, Murphy received a Golden Globe nomination for his performance as the transgender outcast Patrick "Kitten" Brady in Neil Jordan's Breakfast on Pluto. Healso garnered consecutiveBIFA Award nominations for his performances in Ken Loach's Palme d'Or-winning The Wind That Shakes The Barley, Danny Boyle's Sunshine and the BIFA-winning Broken, directed by Rufus Norris. Last year, he starred in Sean Ellis' WWII thriller Anthropoid.
For television, Murphy most recently returned as protagonist Tommy Shelby in Steven Knight's Peaky Blinders. The season four première on BBC Two scored its best overnight ratings since the series launched in September 2013.
Max Porter is the author of the bestselling Grief is the Thing with Feathers (Faber & Faber, 2015), which won the International Dylan Thomas Prize, the Sunday Times PFD Young Writer of the Year Award, the Europeese Literatuurprijs and the Books Are My Bag Reader's Award, and was shortlisted for the Guardian First Book Award and The Goldsmiths Prize. It has been sold to 27 territories. His second novel Lanny will be published in March 2019.
Wayward Productions
Wayward is a new production company led by Judith Dimant, making extraordinary theatre and live performance. The company works with established artists - writers, directors, performers - as well as developing and nurturing the talent of the future, to produce an all-embracing and inclusive programme of work of the highest quality. Grief is the Thing with Feathers is Wayward's inaugural production.
The company is currently developing further projects including The Cherry Orchard with Toneelgroep, Amsterdam.
Learn how to solve the Rubik's Cube with the easiest method, learning only six algorithms.