Golem transfers to the West End
by Oliver Mitford on Tuesday 3 March 2015, 11:10 am in Upcoming and New Shows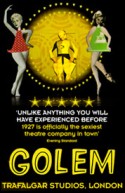 By far the biggest critical hit of the year is Golem by multimedia experts 1927, and now the celebrated production that has had both audiences and critics shouting its praise to whoever will listen, is transferring to the Trafalgar Studios following its sell-out run at the Young Vic Theatre.
The visually stunning show will begin previews in the West End from 12 April 2015, with the official opening night scheduled for 22 April. The production is currently penciled to run through to 22 May 2015, after which it will embark on a huge international tour.
Golem tells the story of Robert Robertson, who purchases a machine designed to help him in his everyday life and improve his efficiency. However, this wonderful bit of technology starts to takeover Robertson's life, forcing him to ask one of the biggest questions of the modern world – do we control technology, or does it control us?
Created by the experimental theatre company 1927, Golem is written and directed by Suzanne Andrade, with design, animation and film by 2014 Critics' Circle Theatre Award-winner Paul Barritt. Music for the production is by Lillian Henley.
If for some (very good) reason, you can't catch this dazzling production in the West End, then you might also get the chance to see Golem in October 2015, where it is due to open at Manchester's HOME theatre.
Golem opens at the Trafalgar Studios from 22 April, with previews from 12 April 2015.