UK première of Martin Sherman's GENTLY DOWN THE STREAM
by Best of Theatre Staff on Monday 8 October 2018, 10:43 am in Upcoming and New Shows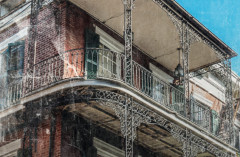 Robert Fox and Alex Turner, in association with Park Theatre, present the UK première of Martin Sherman's new play Gently Down The Stream, following a critically acclaimed run at the Public Theater in New York. The production opens at Park Theatre on 18 February 2019, with previews from 13 February, running until 16 March.
This passionate new play by Olivier and Tony Award nominee Martin Sherman makes its UK debut 40 years after his celebrated modern classic Bent, which subsequently became a major film directed by Olivier and Tony Award nominee Sean Mathias, who directs this production of Gently Down The Stream, marking Martin Sherman's 80th birthday.
The play follows the remarkably moving and brilliantly funny love story of Beau, an older American pianist living in London, and Rufus, an eccentric young lawyer. Coming of age during the 70s, Beau's attitude to love has been seasoned by a life of loving men in a world that initially refused to allow it. Not looking for a long-term relationship, Beau is naturally cautious when Rufus unexpectedly enters his world. However, while the age gap feels unorthodox to Beau, it is immaterial to Rufus, who is from a new generation of gay men. Rufus has none of Beau's doubts about the possibility of attaining happiness and love in the 21st Century and as he assimilates himself into Beau's past and present, Beau learns to embrace Rufus as one of the most defining relationships of his life.
As generations intertwine, Gently Down The Stream reveals the journey of gay history and celebrates the men and women who led the way for equality, marriage and the right to dream.
Martin Sherman was born in Philadelphia in 1938. His early plays include Passing By, Cracks and Rio Grande, all presented by Playwrights Horizons in New York. His play Bent was first presented at the Royal Court with Ian McKellen, then on Broadway with Richard Gere, revived at the National Theatre, again with Ian McKellen, and in the West End with Alan Cumming. It has since been performed in over sixty countries. Later plays include Messiah, A Madhouse in Goa, When She Danced (the last two starring Vanessa Redgrave in the West End), Some Sunny Day and Onassis. Rose premièred at the National Theatre, with Olympia Dukakis, before transferring to Broadway. He wrote the book for the musical The Boy From Oz. His screenplays include The Summer House, Alive and Kicking, Bent, The Roman Spring of Mrs Stone and Mrs Henderson Presents. He has been nominated for two Tonys, two Oliviers and two BAFTAS.
Sean Mathias is a theatre director, film director and writer. He has worked at the National Theatre, the West End, the Kennedy Centre, The Mark Taper Forum, Off-Broadway and many times on Broadway, as well as Paris, Sydney, Cape Town, Johannesburg, San Francisco and extensively in the UK. He has written a number of plays including the award winning A Prayer for Wings, and the screenplay for the award-winning BBC film The Lost Language of Cranes. In 2009/2010 Mathias was the Artistic Director of Theatre Royal Haymarket and his legendary production of Waiting for Godot played two seasons at the theatre, as well as touring the UK and internationally. In 2013 he directed and co-produced Two Plays in Rep, comprising Beckett's Waiting for Godot and Pinter's No Man's Land on Broadway at the Cort Theatre. His production of No Man's Land, starring Ian McKellen and Patrick Stewart, was the highest grossing play in the history of the Wyndham's Theatre. He has won multiple awards including the Standard Award, the Critics' Circle Award, a Fringe First at Edinburgh and the Prix de la Jeunesse at Cannes.
Age guidance 14+