Full casting announced for the world première of FRIENDSICAL
by Best of Theatre Staff on Monday 24 June 2019, 2:11 pm in Upcoming and New Shows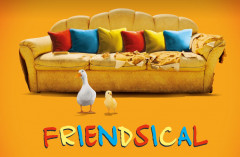 Full casting has been announced for the eagerly awaited world premiere of Friendsical. Playing everyone's favourite friends are Jordan Fox (Joey), Sarah Goggin (Monica), Jamie Lee-Morgan (Ross), Thomas Mitchells (Chandler), Ally Retberg (Phoebe) and Charlotte Elisabeth York (Rachel). They will be joined by Duncan Burt (Ensemble) and Rebecca Withers (Ensemble).
The hilarious parody musical, written by Miranda Larson, will embark on a extensive UK tour, opening at the Everyman Theatre in Cheltenham on 15 July 2019 followed by: Darlington, Derry, Newcastle, Kingston, Malvern, Blackpool, Chelmsford, Southampton and Croydon. Friendsical will also enjoy a full run at the Edinburgh Festival Fringe from 1 – 25 August as part of the Assembly Festival programme in The Assembly Rooms' Music Hall.
When Ross' wife leaves him for another woman, he fears he will never find love again. But then Rachel runs back into his life... will he end up with his one true love?
Featuring original songs such as '(He's her) Lobster!', 'Richard's Moustache' and 'You're Over Me? When Were You Under Me?', the gang take on naked Thursdays, a power cut, and a dinosaur convention.
What could possibly go wrong?
Friendsical is written and directed by Miranda Larsson, with designs by Anthony Lamble, lighting by Dom Jeffery, sound by Julian Butler, musical composition by Barrie Bignold, choreography by Darren Carnall, associate choreography by Michael Vinsen and is produced by Birdbrooke Entertainment ltd.
Jamie Lee-Morgan's (Ross) stage credits include: War Horse at the New London Theatre, Madagascar The Musical on UK and Ireland Tour, One Man, Two Guvnors at Trinity Theatre, Spamalot at Trinity Theatre, The Comedy of Errors at The Complete Works, Jack and the Beanstalk at Milfield Theatre, Cinderella at Spotlight Theatre and Aladdin on UK Tour.
Charlotte Elisabeth York's (Rachel) stage credits include: Aladdin at Victoria Theatre, Halifax, Chicken Soup for the Musical Theatre Soul at Royal Conservatoire of Scotland, The Addams Family at Royal Conservatoire of Scotland, The Girl Who at Noisemaker and Royal Conservatoire of Scotland, The Great American Trailer Park Musical at Pipe Dreams Studio Theatre and Bare: A Pop Opera at Last Chance Studio Theatre.
Sarah Goggin's (Monica) stage credits include: Sister Act on UK Tour and Kilworth House, Aladdin at Alhambra Theatre, Cinderella at Alhambra Theatre, Bad Girls at The Union Theatre, Christmas in New York with Eden Espinosa at Palace Theatre, London/Manchester, A Different Kind Of Christmas Musical at Leicester Square Theatre, Been on Broadway at Vaudeville Theatre, Sincerely Yours at Landor Theatre, Woman 2 in I Love You You're Perfect Now Change at Battersea Barge, Best Of Friends at The Landor and Taboo at Brixton Clubhouse.
Ally Retberg's (Phoebe) stage credits include: Fame on Italian Tour and Dick Whittington at Yvonne Arnaud Theatre.
Thomas Mitchells' (Chandler) stage credits include: The Buddy Holly Story on UK Tour, Big Girls Don't Cry on UK Tour, Carmen 1808 at Union Theatre and Bully at Etcetera Theatre.
Jordan Fox's (Joey) stage credits include: Title of Show at Above The Stag Theatre, Kinky Boots at Adelphi Theatre, Loserville at Union Theatre, Peter Pan at The Playhouse, Hairspray at Cork Opera House, Grease at Cork Opera House, Antigone at Michael Cacoyannis Theatre, Glee: Live at Gaiety Theatre and Rock Nativity! at Mitchell Arts Centre.
Duncan Burt's (Ensemble) stage credits include: The Mob Wife: A Mafia Comedy at The Cockpit, London, Cinderella at Magna Vitae Productions, The Full Monty: The Musical at Old Joint Stock, He Shoots! He Scores! at Above The Stag, Ordinary Days at Old Joint Stock, Dick Whittington and his Cat at The Dancehouse, Myths, Fairytales and Legends at Groombridge Place, Aladdin at The Dancehouse, YOLO at Thwaites Empire Theatre, Speed Dating at The Little Theatre, Hebden Bridge and Little Shop of Horrors at The King's Arms.
Rebecca Withers' (Ensemble) stage credits include: Peter Pan and the Loose Boys at Guildford Fringe Company, Little Baby Bum on UK Tour, Mack and Mabel at Hackney Empire, The Hired Man at Union Theatre, Scooby-Doo! Live Musical Mysteries at London Palladium and UK & Ireland Tour, State Fair at Cadogan Hall and Flight at Opera Holland Park.
Miranda Larson is a highly experienced writer-director for TV and theatre. A huge fan of the TV Show, Friends, Miranda was inspired to write her own friends-based comedy, The Box Upstairs and it was her first commissioned play in 2004.
Her most recent credits include the adaptation of Tom Fletcher's Christmasaurus for the Hammersmith Apollo, and the writing and directing of Peter Harris and Deborah Allwright's The Night Pirates, which opened at the Rose Theatre Kingston and toured the UK. In addition are Cartoon Network Live and Trolls Live currently touring overseas. Other live show credits include the comedies SpongeBob Live & The Amazing World Of Gumball.
TV credits include Life Bites and Bienvenue Bienvenida Welcome for the Disney Channel. Hubble, Bubble & Squeak for Nickelodeon, Chip and Potato for Darrall Mcqueen & Netflix.
Miranda is currently developing Sleepy Hollow for the stage.