Award-winning play For Black Boys Who Have Considered Suicide When The Hue Gets Too Heavy receives West End Transfer
by Best of Theatre Staff on Thursday 19 January 2023, 10:10 am in Upcoming and New Shows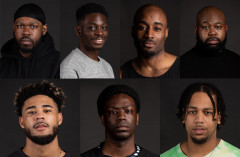 The Royal Court Theatre and Nica Burns have today announced that For Black Boys Who Have Considered Suicide When The Hue Gets Too Heavy by Ryan Calais Cameron will transfer to the Apollo Theatre in London's West End for a limited run of six weeks only. The sold-out hit transfers from the Royal Court Jerwood Theatre Downstairs where it was on last spring, having originally opened at the New Diorama Theatre in association with Nouveau Riche. The production runs 25 Mah - 7 May with tickets on sale tomorrow, 20 January, at 10am here. Press Night will be Friday 31 March.
Inspired by Ntozake Shange's seminal work For Colored Girls Who Have Considered Suicide / When the Rainbow Is Enuf. For Black Boys Who Have Considered Suicide When The Hue Gets Too Heavy is located on the threshold of joyful fantasy and brutal reality: a world of music, movement, storytelling and verse – where six men clash and connect in a desperate bid for survival. Father figures and fashion tips. Lost loves and jollof rice. African empires and illicit sex. Good days and bad days. Six young Black men meet for group therapy, and let their hearts – and imaginations – run wild.
The play was originally conceived by Ryan Calais Cameron in the wake of the killing of Trayvon Martin in 2013 and has been developed over the course of the last decade with young black men and mental health groups. Over 100 men auditioned for the production in 2021 which sold out both its initial run and subsequent transfer to the Royal Court Theatre, with returns queues at both venues every night.
The full original cast return for this new production, directed by Ryan Calais Cameron. The cast, who collectively won the best performer in a play category at The Stage Debut Awards in 2022 and will be making their West End debuts, includes: Mark Akintimehin, Emmanuel Akwafo, Nnabiko Ejimofor, Darragh Hand, Aruna Jalloh and Kaine Lawrence.
Ryan Calais Cameron, playwright and Nouveau Riche Artistic Director, said: "A West End transfer of For Black Boys, will be a momentous occasion for my community and those who have taken the show into their hearts. We really hope this show will drastically change the commercial theatre landscape by ensuring theatre is for everyone and reflects our society; we could not have gotten this far without the immense support of our advocates and audiences."
Nica Burns said: "For Black Boys is an utterly original, compelling and illuminating play, beautifully written by the outstanding talent that is Ryan Calais Cameron and performed by an exciting cast who collectively won the best performance category in The Stage Debut Awards. Whilst dealing with important and serious issues the play is also funny, joyful and exuberant. This is a terrific evening for both new audiences and regular playgoers and is a fantastic must-see addition to the landscape of the West End. We are very proud to be presenting it at the Apollo theatre."
Set and costume design by Anna Reid, lighting design by Rory Beaton, Additional Music and sound design by Nicola T Chang, movement direction by Theophilus O. Bailey and musical direction by John Pfumojena. Tristan Fynn-Aiduenu directed the show's original run at New Diorama Theatre.
For Black Boys Who Have Considered Suicide When The Hue Gets Too Heavy was originally commissioned by New Diorama Theatre, co-commissioned by Boundless Theatre. The West End production is presented by the Royal Court Theatre, Nica Burns, New Diorama Theatre and Nouveau Riche.
Tickets will go on general sale on Friday 20th at 10am with priority booking from Thursday 19th January with tickets available to buy from £15.
Outreach and Community Tickets
As part of their work to engage new audiences, the producers are offering 100 tickets for £15 or less for every performance to youth groups, community groups and charities who would like to experience the show. To register your interest in booking some of these tickets, please fill out the form here For more information, email FBB@royalcourttheatre.com and follow @the.opencourt via instagram for updates.