Final six months to see the hilarious One Man, Two Guvnors!
by Oliver Mitford on Thursday 12 September 2013, 10:32 am in West End News & Gossip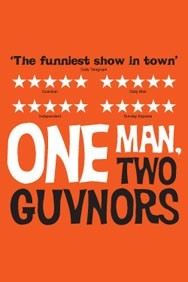 The National Theatre's internationally acclaimed smash-hit comedy One Man, Two Guvnors will complete its West End run on 1 March 2014, prior to a UK and Ireland tour beginning in May 2014.
One Man, Two Guvnors, which has been seen by over one million people worldwide and will be the longest-running show at the Theatre Royal Haymarket in almost 200 years. When it completes its West End run, it will have played almost 900 London performances.
One Man, Two Guvnors tells the story of Francis Henshall, dogsbody to Roscoe Crabbe, a cockney gangster, now in Brighton to collect money from his fiancée's father. But Roscoe is really his sister Rachel posing as her own dead brother, who's been killed by her boyfriend Stanley Stubbers. Are you with me so far?! Francis, always on the look-out to make some more cash, takes a second job with the one-and-only Stanley Stubbers, currently in hiding over the murder of Rachel's brother. To save his own skin, Francis must keep his two guvnors from ever meeting. A simple task for most…. but nothing is ever that simple for Francis Henshall.
From 23 September, loveable rogue Francis Henshall will be played by Owain Arthur, as he returns to the Theatre Royal Haymarket to lead the cast in their final West End run.
Book now before it's too late!!