Final casting for the world première of TRIOPERAS
by Best of Theatre Staff on Wednesday 9 May 2018, 11:58 am in Cast Changes and Announcements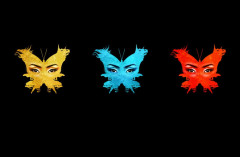 Pamela Tan-Nicholson'sexplosive new production, TriOperas, opens at the Peacock Theatre in under three weeks, and the sensational cast have been taking every 'opera-tunity' to rehearse, for the show's groundbreaking opening. Inspired by three of the best-known female characters in opera, Turandot, Madam Butterfly and Carmen, TriOperas opens on 23 May, for a limited season until 1 July, with press night on 29 May 2018.
TriOperas is bringing together ten multi-talented male performers to perform the various colourful roles all requiring a range of skill sets. Adam Corrigan, Llandyll Gove, Adam Margilewski, Matthew McCabe, Richard Munday, Daniel Slade are joined by award-winningRoyal Opera House principal Yuriy Yurchuk, Wushu World Champions Cham Dong Ming and Toh Chin Xian; and the only actor in the world to have starred as Young Simba and Adult Simba in Disney's The Lion King, Naoto Kaiho from Japan.
Lucy Aiston and Anastacia Quinton-Smith also join the previously cast female performers - Sianna Bruce, Keedie Green, Sara Hamilton, Lucy Kay, Martina Mennell, Shoreina Pereira, and Chiara Vinci.
Creator, Pamela Tan-Nicholson, has said "The spirit of sharing and learning among all these amazingly talented and motivated artists makes me both inspired and humbled. The team is diverse – some come from the world of classical opera, others from quite different artistic disciplines. What glues them together is a common ethos believing that music, opera included, exists for universal appreciation. We all relish the idea of looking at opera afresh. TriOperas is not a history tour of three fossilized operas. The times they are a-changing, and we say - opera too. My hope is that even people who don't know or don't like traditional opera will see the show and come away feeling that they have been properly entertained and emotionally touched by three stories told entirely through dramatic lyrics set to glorious music and performed with no-holds barred action. Opera should be like that – no more no less. Opera is for everyone- of any age - to love."
In this challenging production, many of the roles are not gender-specific and cast members interchange, understudy and double for each other. The performers require superb vocal skills to meet the demanding vocal repertoire, convincing dramatic authority over a range of extreme emotions, and phenomenal physical discipline to perform dance and stunts.
TriOperas,produced by Covent Garden Soloists Productions (Op 1) Limited (CGS), merges opera singing with punk, rap, rock and hip-hop and an incredible display of acrobatics, kung-fu, puppetry, breakdancing, tap, ballet, salsa, Chinese lion wushu and parkour. Stories are brought to life by a stellar production team, including choreographers such as Royal Ballet Principal Steven McRae, Sadler's Wells' Breakin' Convention Director Jonzi D, Masters Siow and Tang from Kun Seng Keng Lion and Dragon Dance Association (holders of 65 world titles and still counting), and music director Vasko Vassilev, the Royal Opera House's concertmaster and creative producer.
In 2017, UNESCO granted official patronage to TriOperas to encompass also a complementary onsite exhibition supported by the V&A Museum and the Royal Opera House, TriOperas – Women Power World Opera, the exhibition, will be running at the Peacock Theatre during TriOperas' run from 23 May – 1 July.
TriOperas provides opportunities for training and students from the Brit School's different Departments of Study (Music, Musical Theatre, Dance and Technical Production) work with TriOperas mentors in pre-production, curating and rehearsals leading up to the opening of the show.