Could Emma Thompson be coming to the West End? (in Sweeney Todd)
by Oliver Mitford on Tuesday 18 March 2014, 12:07 pm in West End News & Gossip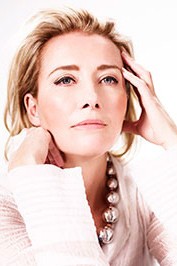 The Oscar-winning actress and screenwriter Emma Thompson is doing the rounds on the theatreland rumour mill, with the whisper that she may reprise her performance as Mrs Lovett alongside Bryn Terfel in Stephen Sondheim's classic musical Sweeney Todd.
Thompson and Terfel received outstanding reviews in New York for their performances in a concert production of the dark tale of the Demon Barber of Fleet Street by the New York Philharmonic. Lonny Price directed the concert with musical direction by Alan Gilbert. Bryn Terfel stared as the title role of Sweeney Todd with Thompson opposite him as his morally dubious pie-making wife. Reviews and audience comments point to outstanding performances by the duo, with many of them wanting to see a full production with the pair at the helm. London seems the obvious choice as both Thompson and Terfel call the UK home. In a statement to the press Emma Thompson stated that she would 'do it again in a shot!' – a good indication that a full production seems very likely indeed.
The West End recently saw Jonathan Kent's production of Sweeney Todd. This transfer from Chichester Festival Theatre with Michael Ball and Imelda Staunton as the devilish lead couple extended its run a few times at the Adelphi Theatre. Lets hope we get to see a brand new version with the two-time Oscar winning Emma Thompson and opera legend Bryn Terfel showing us what they're made of.