Dirty Dancing returns to give West End audiences the time of their lives!
by Oliver Mitford on Wednesday 22 May 2013, 10:26 am in Upcoming and New Shows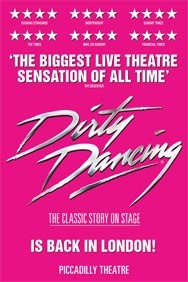 The record-breaking musical adaptation of the cult classic film Dirty Dancing will return to London's West End following a sell-out nationwide tour across the UK and Ireland. Twisting and twirling onto the stage of the Piccadilly Theatre on 13 July, Dirty Dancing tells the story of 'Baby', the youngest daughter of The Housemans, who take her on vacation to a popular holiday camp, where she meets a dance teacher from the wrong side of the tracks: Johnny. There begins a classic love story where fate is written in the stars and love can conquer all, plus those immortal words "nobody puts Baby in the corner".
Written by Eleanor Bergstein – screenwriter of the hit 1987 film – and directed by Sarah Tipple, the show features a bursting platter of classic pop hits including Hungry Eyes, Hey Baby and the Academy Award-winning song I've Had The Time of My Life.
Dirty Dancing originally opened at the Aldwych Theatre on 24 October 2006 with record-breaking advance sales of £15m – making it the fastest-selling show ever in West End theatre history. The production then became the Aldwych's longest-running show, playing to over two million people throughout its five-year run, before eventually dancing the last fandango on 9 July 2011.
Dirty Dancing – The Classic Story on Stage, is booking through to 22 Feb 2014. So get your dancing shoes on, fluff up those 80's hairdos and jive on down to the Piccadilly Theatre for the time of your life!