Ira Levin's DEATHTRAP on National Tour from September 2017
by Best of Theatre Staff on Friday 24 March 2017, 11:22 am in West End News & Gossip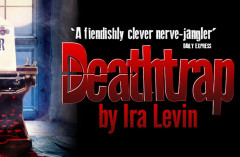 A brand new production of Ira Levin's Tony-nominated classic thriller Deathtrap will embark on a 12-week national tour for the first time in 20 years, opening September 2017, with press night at the Theatre Royal Brighton on Thursday 14 September.
The production will star Paul Bradley (Holby City and EastEnders) in the role of Sidney Bruhl and BAFTA nominee Jessie Wallace (EastEnders and Fings Ain't Wot They Used T'Be) as Myra Bruhl.
Written by the award-winning playwright and author Ira Levin (Rosemary's Baby, The Stepford Wives and Critics Choice), Deathtrap is directed by the newly appointed Artistic Director Designate of Nottingham Playhouse Adam Penford (The Boys in the Band, A Small Family Business and in June 2017, Committee at the Donmar Warehouse), and returns following a limited run at Salisbury Playhouse.
Deathtrap is produced by Mark Puddle in association with Paul Tyrer and Jamie Clark for TBO Productions. Costume and set design is by Morgan Large, with lighting by James Whiteside, sound by Max Ringham, video design by Duncan McLean. Further casting will be announced in due course.
Deathtrap is a truly satisfying spine-chiller that is guaranteed to keep you on the edge of your seat. One of the most successful plays in its genre, Deathtrap promises an ingenious maze of twists and turns that will keep you guessing until the very end.
Sidney Bruhl (Bradley), a once- successful writer of stage thrillers, is in the grip of chronic writer's block. Out of the blue, young playwright Clifford Anderson sends Bruhl one of the only two copies of his brilliant new whodunit, Deathtrap.
Desperate to set Broadway alight once more, Sidney spies his chance to invite Clifford to his remote country home. Oh, and to bring the only other copy of Deathtrap with him!
If Bruhl can kill the newcomer and pass the play off as his own, he could once again be the toast of Broadway.
Deathtrap is a masterpiece of seat-gripping suspenseful writing, and continues to hold the record as the longest running thriller in Broadway history. Deathtrap was subsequently made into a smash-hit film starring Michael Caine and Christopher Reeve.
Paul Bradley's (Sidney) stage credits include Dead Sheep (UK Tour), Journey's End (Comedy Theatre), Noises Off (UK Tour), The Relapse (National Theatre), The Threesome (Lyric Theatre, Hammersmith), A Midsummer Night's Dream, Pirates Of Penzance and Twelfth Night (Regent's Park Open Air Theatre), Much Ado About Nothing, Bulldog Drummond, Around The World in 80 Days (Southampton Nuffield Theatre), Charley's Aunt (York Theatre Royal), Romeo and Juliet (Young Vic), and rep seasons at the Royal Exchange Theatre, Manchester. Paul played Professor Elliot Hope for ten years in Holby City and Nigel Bates in EastEnders for six. Paul's other screen credits include Bradley (his own childrens' TV show), Bottom, Smith and Jones, Birth Marriages and Deaths, The Kate Robbins Show, Stop That Laughing At The Back, The Young Ones, Murder Most Horrid, Boon, Comic Strip, C.U Byrne (in Irish!), and the role of Yehuda Zsiskind in the multi Academy Award and BAFTA winning film, The Pianist. Paul also sings and plays guitar and sellotape in the twenty-five year old band the hKippers.
Jessie Wallace's (Myra) is best known for her role as Kat Moon in EastEnders. A spin-off series, Redwater, based on the characters of Kat Moon and Alfie Moon - played by Shane Richie, will shortly be on the BBC, in May 2017.
Her other screen credits include The Road To Coronation Street for Granada, Spendingtons and Wild At Heart for Company Pictures/ITV, The Dinner Party and A Class Apart both for the BBC.
Jessie's stage credits include The Perfect Murder and Chicago, both on UK Tour, Fings Ain't Wot They Used T'Be at the Theatre Royal Stratford East, Stepping Out on UK Tour, Haunted at The Arts Theatre and Rent at the Duke Of York's Theatre. Jessie has won numerous awards for her acting, including Best Actress at the TV Quick and Choice Awards, and Best Actress at the Inside Soap Awards. She was also nominated for a BAFTA award for her portrayal of Pat Phoenix on The Road To Coronation Street.
Adam Penford's (Director) credits for the National Theatre include A Small Family Business (Olivier), Dorfman Opening Gala (Dorfman), Is There Wi-Fi in Heaven (The Shed) and Island (Cottesloe). Adam was also the revival director on One Man Two Guvnors (West End, Broadway, UK and International Tour), associate director on NT 50 Years on Stage and staff director on Season's Greetings.
Adam's other directing credits include Plantinum (Hampstead Theatre), Watership Down (Watermill Theatre), Ghost the Musical (ETF), Stepping Out (Salisbury Playhouse), The Machine Gunners and Run! (Polka Theatre), The Hostage (Southwark Playhouse), Holes (New Wimbledon Studio Theatre) and Young Woodley, Tea and Sympathy (Finborough Theatre). Most recently Adam directed The Boys in the Band (Park Theatre and Vaudeville Theatre) and Unfaithful (Found 111). Adam will direct Committee (Donmar Warehouse) in June 2017.
Adam's assistant/associate director credits include Kevin Spacey Gala (Old Vic), The Winter's Tale (Propeller at the Watermill), The Vagina Monologues (National Tour), 50 Ways to Leave Your Lover (Bush), Imagine This (Theatre Royal, Plymouth), Dying For It (Almeida) and Charley's Aunt (Oxford Playhouse). Adam was made Artistic Director Designate of Nottingham Playhouse in 2016 and takes the helm as Artistic Director later in 2017.
Ira Levin (Author) was twenty-two when he wrote his first novel, the award winning 1953 thriller A Kiss Before Dying. He followed it with his first play, the hit adaptation of Mac Hyman's No Time for Sergeants. Both were adapted for the screen, launching a career of over fifty years that was characterized by equal success as both a novelist and playwright. Levin's plays include the comedy hit Critics Choice and Deathtrap – the longest-running thriller in Broadway history. Perhaps his most famous works were Rosemary's Baby and The Stepford Wives, both were novels which were subsequently made into hit films. Ira Levin died in 2007.
Deathtrap is presented by special arrangement with Samuel French Ltd.