Daisy Heath appointed executive director of Kiln Theatre
by Best of Theatre Staff on Friday 26 October 2018, 10:42 am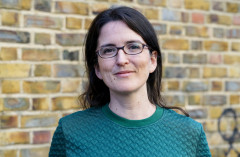 Kiln Theatre today announces the appointment of Daisy Heath as Executive Director. Daisy joins the company from the Young Vic - where she is currently Lead Producer - in January 2019 working alongside Artistic Director Indhu Rubasingham. Daisy takes over from Bridget Kalloushi who leaves after 6 years as Executive Producer having successfully completed work on the capital project.
Daisy Heath said today, "I am over the moon to be joining Kiln Theatre at this brilliantly exciting time for the company, with its beautiful and newly re-opened building, outstanding team and a mission to make theatre for everyone. Joining the awe-inspiring Indhu Rubasingham, I can't wait to get started at this much loved and valued organisation rooted in Brent with an international reach."
Artistic Director Indhu Rubasingham commented, "On meeting Daisy, we knew what a brilliant appointment she would be for the company. Not only does she bring a wealth of experience, having worked across the subsidised theatre sector for most of her varied career, but her enthusiasm and ambition for the company are just the right energy as we explore the possibilities of the new building – I'm very excited to be working with her. We are enormously grateful to Bridget for her incredible dedication to the organisation, and for spearheading the capital project – her legacy will live on in the beautifully refurbished theatre."
Jonathan Levy and Barbara Harrison, Co-Chairs of the Board said today, "We're thrilled to welcome Daisy to Kiln Theatre to join Indhu and lead the team into this new phase of the company's history. Her long-term experience of producing work across many theatres will be invaluable for the team as they undertake the most ambitious season in the company's history."
Daisy is currently Lead Producer at the Young Vic where she produces all the Main House productions including most recently Kwame Kwei-Armah's first production Twelfth Night, Lisa Kron and Jeanine Tesori's Fun Home and the world première of Matthew Lopez's The Inheritance currently running at the Noel Coward Theatre.
Prior to joining Young Vic in 2011, she was Head of Planning at the National Theatre from 2007 to 2011, worked in the Producer's Department at the RSC (2004 – 2006), General Manager at the Gate Theatre (2002 – 2004), Administrator at 36 Gazelles/Artsadmin (2000 – 2002) and Literary Assistant at the Royal Court Theatre (1999 – 2000).