Review of THE CURING ROOM at the Pleasance Theatre
by Phil Willmott on Wednesday 29 October 2014, 9:17 am in London Theatre Reviews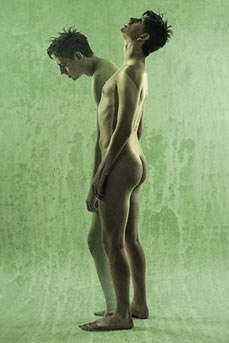 When were you last shocked by a piece of theatre? I mean open mouthed, horrified, shocked. Up at the Pleasance Theatre in Islington a new theatre company, Stripped Naked Productions, are getting exactly that audience response with their production of David Ian Lee's drama THE CURING ROOM, based on the true story of a group of WW2 Russian soldiers who are locked, naked in a meat curing room and left to die. After a while they start eating each other (very convincingly!!!).
The naked actors are all pleasingly buff even if their gym toned bodies don't entirely suggest soldiers who've struggled and starved in a brutal war for a long time. The mounting horror exerts a strong grip although I hope the writer and director will learn to shape their future productions to allow a few more peaks and troughs in the roller-coaster ride, it'd make things all the more thrilling. This play and production chugs along at much the same tempo and intensity from start to finish.
Although I'm no expert in how humans denied food behave I did experience four days in New York when a hurricane meant we couldn't charge our phones or flush the loo (ugly scenes at Starbucks!) and I did catch a few episodes of a TV show where Bear Grylls dumped some blokes on an island.
Both of these instructive experiences make me doubt whether these characters would remain quite as eloquent and formal as Lee would have us believe. As their desperate minds turn to cannibalism would they really retain enough social etiquette and eloquence to say things like "We're each of us capable of our little monstrosities, Captain" and "Must we leave the head in the corner, I find it unsettling"?
I suspect not and alas, it's improbable dialogue like this that prevented me from engaging on a human level with any of these beautiful men or from regarding this play as an entirely credible exploration of cannibalism, one of societies last taboos.
Maybe it's just as well, the impact of all that gore is already overwhelming. The actors do their best with the dialogue (did I mention they're seriously hot) and this is well worth catching for the curiosity value.